Was Sarah MacDonald born in Shropshire in the tiny village of Barrow - or in the bustling metropolis of London, in the Lying-in-Hospital (see above, built in 1749 and transferred a century later to Endell street in Holborn)?
A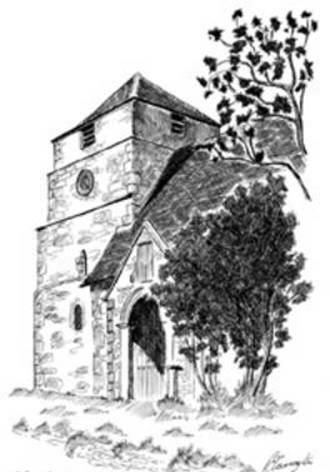 s yet, we don't know: there were at least two Sarah MacDonalds born in England in 1765, and in the absence of further evidence, we can't be sure which one was actually "our" Sarah.
If she was born in London, in the Lying-in-Hospital, her parents would have been recipients of a new style of charity hospital - donors to the hospital were allowed to nominate deserving cases for care: one restriction in this case appears to be that only married women were allowed in.
However, if Sarah were born in Barrow, she would have been born into a rural community in the hills of southern Shropshire, a rural area bordering in the west on Wales. This Sarah was one of at least two children, born to Thomas Macdonald and his wife Elizabeth; younger brother Tom was also born in Barrow, in 1768.
(left) St. Giles in Barrow, Shropshire. The Church of St. Giles is said to be one of the oldest in the country, with a chancel which possibly dates back as far as the 8th century.

We do know that Sarah was nearly 30 years old when she met and married William Hancy in London, at St. Anne's in Soho, in 1794 After six years of married life in London, 36-year-old Sarah and her three young children accompanied her husband William to Australia to start a new life in 1801. (A fourth child, eldest son Simeon, is believed to have died before the voyage to Australia). The convict colony, established only 13 years before, was still in a very raw state. The land the family had been granted at Castle Hill, while highly valuable today, was then quite remote from the main settlement at Sydney Cove
The life of an isolated, pioneering mother of 10 in those years would not have been easy. For more than three years, the family was dependent for the necessities of life on the issue of Government stores, eventually becoming self sufficient in June, 1805.[6] The harshness of life in the new colony resulted in no children being born to Sarah and William until the situation on the farm improved, but they went on to have a further four children when the uncertain early years of living on the Government stores ended.

Sarah was made a widow in 1830, with William's accidental death. Soon after, Sarah applied to the Government for a (convict) servant to be assigned to her – her first request was unsuccessful, but in 1835, the application was granted.[7]

She went on to live nearly another 30 years after William, dying on the family farm in 1859, of old age (94 years) and dysentery. By that time, the farm was being run by her son-in-law, William Ashton, who married one of Sarah's daughters, Charlotte. It was William Ashton who recorded the details for Sarah's death certificate, and judging by the lack of information in that document, the family had retained very little knowledge of Sarah's early life.
In death, Sarah continued to be separated from her husband – her family buried her in a different cemetery, the old Wesleyan cemetery, on the corner of Ross and Buller Streets, Parramatta. The area has since been converted into the 'Walter Lawrie Memorial Park' by the Parramatta Council, and the location of Sarah's remains is not known. William's grave, however, still exists in the historic St. Patrick's Catholic cemetery in North Parramatta, on corner of Pennant Hills road and Church Street.
---
[1]Various sources including:
Census/Muster. 1828 census;
Catholics in Australia 1788-1820. pg 205;.
John T Spurway (editor), Australian Biographical & Genealogical Record, Series 1 1788-1841, ABGR in association with the Society of Australian Genealogists. page 179
IGI, Batch no.:C033891
[1a]
Hospital records, 1749-1868
British Lying-In Hospital (Holborn) IGI, Batch no.:C055241
[2]
Sarah's death certificate; Registrar of Births, Deaths and Marriages.
[3]
John T Spurway as above; Sarah's death certificate.
[4]
As above
[5]
As above
[6]
King Papers (Mitchell Library manuscripts), Vol 1, p108
[7]
R Bourke Despatches (Mitchell Library manuscripts): 1832-32:1210 p211; 1835/214 p706.