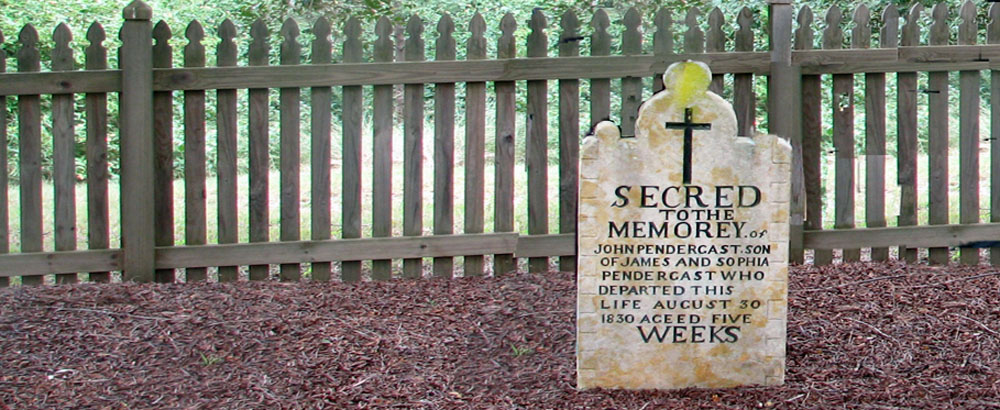 The grave of Sophia and James' second son, John at Half Moon Farm cemetery at Lower Portland on the Hawkesbury River.

This block will be replaced by LeftMenuGaffey.html when the page is served from a server.
Line of Descent to Joan Gaffey
Sophia Hancy
(Great great grandmother)
Father:

William Hancy (1763-1830)



Mother:




Birth:

1808 Baulkham Hills, NSW



Marriage:

James Pendergast, 1828, Parramatta, NSW



Children:

James PENDERGAST (b 1827)
Jane Emeline PENDERGAST (b 1829)
John PENDERGAST (b 1830)
Mary Anne PENDERGAST (b 1831-1903), married William Williams, 1848, Windsor
William PENDERGAST (b Oct 5 1835)
Sophia Catherine PENDERGAST (b Oct 9 1837)
Sarah PENDERGAST (b Jul 31 1841)
Margaret Elizabeth PENDERGAST (b Feb 24 1843)
Elizabeth PENDERGAST (b May 30 1845)
Records on Sophie Hancy's all-too-brief life are few.... She is first mentioned in an application in 1822 by her father William to the NSW Governor, seeking a further land grant, when he said he had arrived in the colony in 1800 with three children, and since then, another five (including Sophia) had been born. No official baptism for Sophia, or indeed any of the Hancy children, has been recorded; not surprising since the Hancys were Catholic and for the first few decades of European settlement, no Catholic priests were authorised to regularly officiate in services.
Life for the Hancy family at Baulkham Hills (later Castle Hill), would have centred around the farm. It appears very little schooling would have been available to the children of settlers there, unless it was undertaken in the home. So, in all likelihood, Sophia would have been illiterate, but that wasn't a major drawback for the young woman. On her marriage in 1828, 20 year old Sophia went from her parents' farm to another farm even further removed from the centre of colonial life when she wed another free-born settler, James Pendergast, son of a convict who'd became upwardly mobile, at least in terms of land in the Hawkesbury-Windsor district, northwest of Sydney.The wedding at Parramatta was a double ceremony - James' brother Thomas married Sophia's younger sister Elisabeth.
The young Pendergasts set about family life on a land grant adjacent to Sophia's father-in-law's property, Half Moon Farm, at Lower Portland Heads on the Hawkesbury River. According to the 1828 Census of the colony, the farm was 240 acres, of which 60 were cultivated, with 18 cattle grazing on the uncultivated area. Nine children were born to the couple, but at least one died in infancy - John, their third child and second son. John was buried in the cemetery attached to Half Moon Farm, with a headstone well preserved and maintained into the 21st century (see photo at head of page).
James and Sophia continued to live and work in the Windsor area, producing a family of nine children along the way. (Our direct ancestor was their eldest daughter, Mary Ann, who married a farmer, William Williams, the Australian-born son of convict couple, William Williams and Julia Leahy of Pitt Town).
Within six months of the birth of their youngest child Elizabeth, Sophia herself died, aged only 37. She is buried in the Pendergast family vault in Windsor's Catholic churchyard.