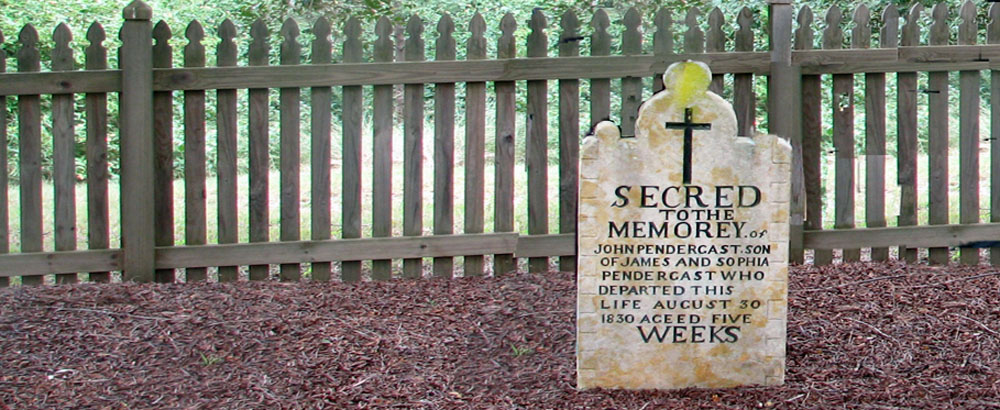 The grave of James' and Sophie's second son, John, at Half Moon Farm cemetery at Lower Portland on the Hawkesbury River.
James Pendergast (1803-1865)

This block will be replaced by LeftMenuGaffey (orByrnes) when the page is served from a server.
Father:

John PENDERGAST (b 1760)



Mother:

Jane WILLIAMS (b 1775)



Birth:

1803 in Cornwallis, near Windsor, NSW



Occupation:

Farmer



Death:

Oct 17 1865 in Pitt Town, near Windsor



Burial:

in Windsor, NSW (Catholic cemetery)



Marriage:

1. Sophia HANCY (May 5 1828 in Parramatta, NSW[1])



Children:

James PENDERGAST (b 1827)
Jane Emeline PENDERGAST (b 1829)
John PENDERGAST (b 1830)
Mary Anne PENDERGAST (b 1831-1903), married William Williams, 1848, Windsor
William PENDERGAST (b Oct 5 1835)
Sophia Catherine PENDERGAST (b Oct 9 1837)
Sarah PENDERGAST (b Jul 31 1841)
Margaret Elizabeth PENDERGAST (b Feb 24 1843)
Elizabeth PENDERGAST (b May 30 1845)



Marriage

2. Susannah CUNNEEN (1847 in Windsor, New South Wales)



Children:

John PENDERGAST (b 1848)
James PENDERGAST (b 1850)
Edward PENDERGAST (b 1853)
Amelia PENDERGAST (b 1855)
George PENDERGAST (b 1857)
Norbert PENDERGAST (b 1861)
James was one of the early native-born sons of the Colony, born in the Windsor area, north west of Sydney in 1803. He was the eldest of six children of a convict couple, John Pendergast and Jane Williams, although he had an older half-brother John, born of his fatherís earlier liaison with another woman, Catherine.
Jamesí father John was an astute businessman who, after his early Conditional Pardon, set about acquiring considerable property around the Hawkesbury. Jamesí childhood and early adult years would have been occupied with working various family farms, along with his three brothers.

One of these brothers, William, appears to have been more intimately involved with his fatherís businesses; when their father died intestate, William sought and was given the right to administer the properties.
Nonetheless James himself accrued considerable property, at the same time starting his own family after his marriage in Parramatta to the 20-year-old Sophia Hancy. Sophia was the daughter of a free settler, William Hancy, a farmer of Baulkham Hills, who had arrived in the Colony in 1800. James and Sophia continued to live and work in the Windsor area, producing a family of nine children along the way. Their second eldest daughter, Mary Ann, married a farmer, William Williams, the Australian-born son of another convict couple, William Williams and Julia Leahy of Pitt Town.
In 1845, with their youngest child only six months old, Sophia died, leaving James with a large family.
Twenty months later, 44 year old James married again, this time a 29-year-old Irish woman Susannah Cunneen, who had arrived in Australia as a six year old. James and Susannah added six children to the large Pendergast family, the youngest, Norbert, being only three years old when his father died at Pitt Town, near Windsor.[2]
When James died at 63, his will revealed he had accumulated nearly 470 acres in various properties and farms (including Ruse Farm and Jenkinson Farm) around Windsor, plus two lots in the Redfern Estate that he bought in 1854 (for information on the historic Redfern Estate, click here).
Although the will reveals an astute businessman making thorough plans for the welfare of family, itís probable James was illiterate. He signed the document with an ďXĒ Ė but since it was drawn up only in the month before his death, itís also possible he was too weak to sign his name after suffering from consumption for eight months.[3]
---
[1] . Michelle Nichols, Hawkesbury Pioneer Register, Hawkesbury Family History Group, p143.
[2] As above
[3] Jamesí death certificate