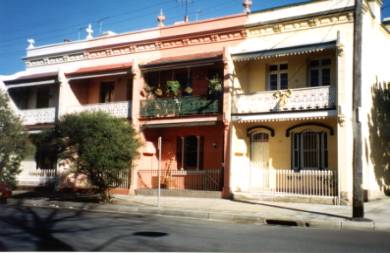 (right:) 41 Greens Road, Paddington, where Stella was born in 1889. No. 41 is second from right, a terracotta terrace.
Greens Road, running alongside Victoria Barracks to Oxford Street, is now classified part of the historic precinct around King's Cross and Paddington.
Stella was born in the inner Sydney suburb of Paddington, one of 9 children born to a hotel broker and his wife. At the time of her birth, the family home was a terrace house, adjacent to the western boundary of Victoria Barracks. Her first occupation was dressmaking, helping her older sister Gertrude in her work from their home on the corner of Stewart street and Oatley road, on the eastern boundary of the barracks.
Stella was still living in Paddington and working as a saleswoman, when she met and married Thomas Gaffey in 1921. Tom was a butcher who, during World War 1, had moved to Sydney from Bundarra in the New England area and had become a tram driver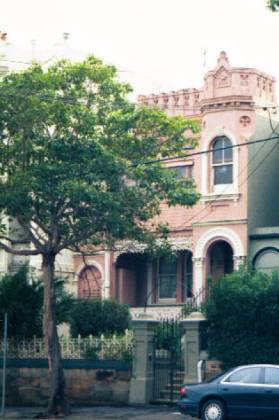 After their marriage, Stella and Tom lived at 348 Park Road, Paddington[4] their home when
their first child, a daughter Joan, was born.
(right): 348 Park Road Paddington (now Moore Park Road), Stella and Tom's home at the time of the birth of their first child. Presumably, the ornate Victorian terrace was subdivided into rental rooms and flats.
The Gaffey family then moved to the beachside suburb of Bondi, where they shared a house converted to a duplex with Stella's widowed mother Mary Ellen, and Stella's brother Frederick. Young Joan recalls living as a child at 9 Philip Street, next door to her grandmother and her uncle Frederick, and playing in the yards of the two homes.
Stella appears to have exercised the right to adjust her age at times - on her marriage certificate, she gave her age as 28, when according to her birth certificate, she was 32 - a discrepancy continued by her brother Fred when he gave details for Stella's death certificate.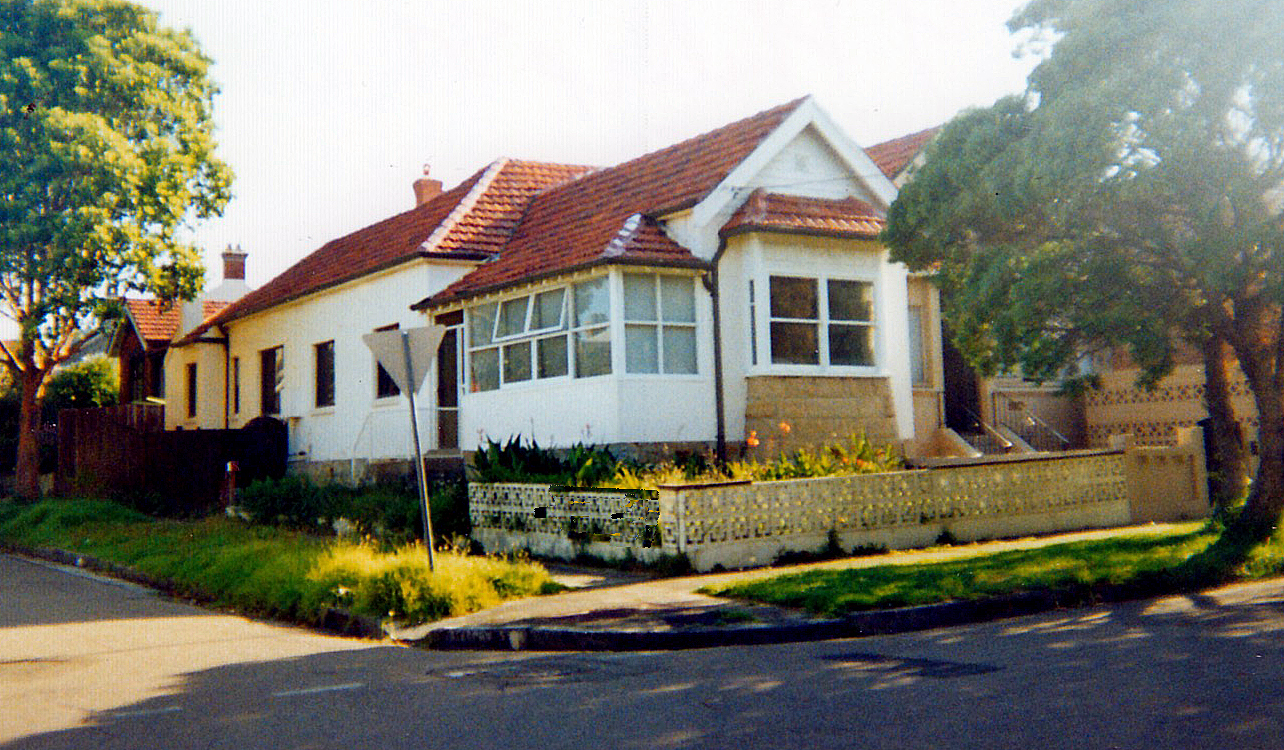 (left):
9 Philip Street, Bondi, where Stella and her husband Tom lived with their children. The attached house next door was home to other members of Stella's extended family.
In the summer of 1927, Stella died at the early age of 38, of "Interstitial Nephritis" (Bright's Disease), leaving behind a widower with three children, the eldest just turned six, and the youngest, Eve, only three years old. Stella's death had a lasting impact, particularly on the eldest child, Joan, who was just old enough to have shadowy memories of her mother and her last illness. Joan remembered her mother as "almost always confined to her bed". Although no mention is made on Stella's death certificate, the family believes she may well have been pregnant at the time she succumbed to the kidney disease.
Although the rest of the Williams family until then had been buried in nearby Waverley cemetery, Tom put Stella to rest in the far away Rookwood cemetery, in Sydney's west.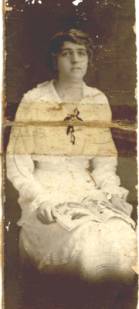 (above): Stella Williams (on right) as a bridesmaid at the wedding in 1919 of her sister Nellie to Patrick McInerney.
Members of the bridal party are:
(from left): Patrick's sister, Delia and her husband, Bill Edwards, Patrick (seated), Nellie, while the identity of the groomsman partnering Stella can't be confirmed
(left): a fragment of a photograph of a young Stella Williams, probably around 1905.
(photos left and above courtesy Kevin McInerney)
---
[1] NSW Registrar of Births Deaths & Marriages (Stella's birth certificate No.: 1889/ 12973)
[2] Stella's marriage certificate
[3] Stella's death certificate.
[4] This is Stella's address given for her daughter Joan's birth certificate – it is known today (2002) as Moore Park Road, and is adjacent to the Sydney Football Stadium and the Sydney Cricket Ground.