The birth of a William Hansey was recorded at All Saints, in Suffolk, England in 1763[11] . If (and it's only an "if"), this was our William, it would make him 31 years old when he married Sarah Macdonald, in London, at St. Anne's in Soho[12] in 1794.
William and his brother Michael and their families came to Australia as free settlers in 1801 on the Minorca, arriving in Sydney on December 14, 1801. Why William, then in his late 30s, would uproot his wife and young children for a life half a world away is not known. Certainly, at that time, the vast majority of new arrivals were convicts. Perhaps the almost certain grant of free land was an enticement to encourage the trickle of free settlers.
In New South Wales, the family grew with another five children, in addition to the three who arrived from England. (It's believed the eldest son Simeon had died before the voyage).

The Hancy family settled in the Baulkham Hills district (now Castle Hill) in Sydney's northwest, with land grants of 100 acres in 1802, and another 60 acres in 1831 (granted after William's accidental death in 1830).
The original land grants given to William Hancy and his brother Michael at Baulkham Hills (now Castle Hill) in the Hills District northwest of Sydney. Today's Showground Road runs from the Castle Hill shopping centre through the Hancy grants, and onto Windsor Road.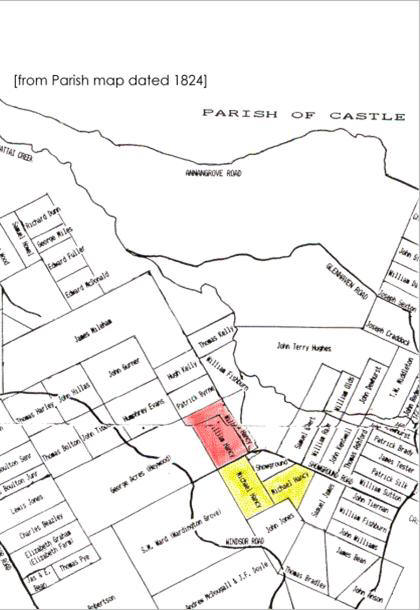 After William's death, the land, by then estimated at 200acres, was put up for auction with the following description:
By the 21the start of the 21st century, this land was transformed into an upmarket outer Sydney residential area, on the fringes of rural settlement. The land in question is off Showground Road, a main road leading from the Castle Hill shopping centre. Then it was a remote, not always fertile area, and, on occasions, a hotbed of Irish convict resentment. Such unrest had only one serious outbreak, the Vinegar Hill rebellion of 1804 when more than 200 convict rebels, mainly of Irish descent, plus a few free settlers, rose up at Castle Hill against the authorities.
Although William was a community activist, it's highly unlikely he was one of the settlers who sided with the Irish rebels. In 1806, his activism took the form of supporting what he saw as the besieged lawful government of the colony, and the rights of the colonists who opposed the deprivations of the Rum Corps.
He was one of 244 signatories to the "Hawkesbury Settlers' Address" in that year to Governor Bligh, complaining of practices of Officers of the Rum Corps, and also of the infringement of the settlers' rights, privileges and liberties by John Macarthur. In May 6, 1808, William was also a signatory to a Welcome to Lieut. Governor Paterson, praying for the re-establishment of law and order and punishment of those who had deposed Captain Bligh as Governor. He was again a signatory on November 4, 1808 to another petition of the same nature to Viscount Castlereagh in England. William's activities did not go unrecorded in official correspondence – there are numerous entries for him in the Colonial Secretary Index, 1788-1825
[13]
In addition to his public activities, William also had to deal with strife within his own family. One of the children born in the Colony, Frederick, obviously caused his father some heartache, to the extent that William posted a warning in the Public Notices Section of the Sydney Gazette in 1823, cautioning anyone who came into contact with son Frederick.
William may also have been a little remiss as a parent - his words "about 18 years of age" are a bit too vague - Frederick, in fact was actually 19 or 20 at the time of his absconding. Whatever happened to him, it wasn't terminal (although for a period in 1847 he was committed to the asylum at Tarban Creek, later known as the Gladesville Mental Hospital) - Frederick lived to nearly 70 years of age, dying in 1872, in Victoria.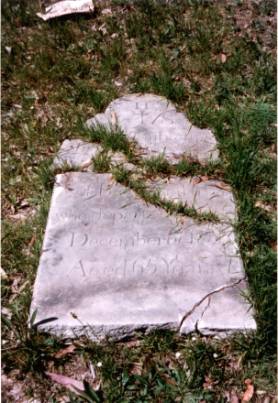 William himself died on December 6, 1830, thrown from his horse on the road from Parramatta to Baulkham Hills. According to contemporary accounts, he landed on his head and died instantly.The verdict of the Coroner's inquest was "accidental death". The Sydney Gazette, in its issue of December 11, 1830, which contained the verdict of the inquest, reported that the 65-year-old William and two other persons had been riding "at full speed along the highway" when his horse hit a cow, and he fell to the ground, hitting his head.
William was buried in the historic St. Patrick's cemetery at North Parramatta, on corner of Pennant Hills road and Church Street. In 1997, William's gravestone was found knocked over, and broken into about six large pieces, but the inscription was still legible.
In remembrance of Williams Hancy of Baulkham Hills who departed this life December 6th, 1830, aged 65 years.
By 2004, the stone had been repaired, reinforced with a fibreglass backing and re-erected.
---
[
1
]
Catholics in Australia
1788-1820 p 205
[2] Bicentenary Pioneer Register 2nd edit. Vol.3
[3] John T Spurway (editor). Series 1 1788-1841. ABGR in association with the Society of Australian Genealogists, page 179
[4] Catholics in Australia 1788-1820 p 205
[5] 1828 census
[6] John T Spurway p. 179
[7] As above
[8] Sydney Gazette Dec 11, 1830
[9] John T Spurway) p.179
[10] As above
[11] IGI, Film No 177894
[12] IGI Batch no M062364
[13] The records list:
1802 Mar 31: On list of all grants and leases of land registered in the Colonial Secretary's Office; listed as Flancy (Fiche 3268; 9/2731 p.124)
1820 Nov 24; 1821 May 24 Store receipts of for salt pork and fresh meat (Reel 6051; 4/1748 pp.137, 178)
1822 Aug 18: Memorial (Fiche 3047; 4/1830 No.141)
1825 Nov: of Castle Hill. On list of persons liable to serve as jurors at Parramatta (Reel 6062; 4/1782 p.116b)
1824 Aug; 1825 Jan 27: Of Baulkham Hills. Memorial (Fiche 3134; 4/1842A No.344 pp.249-54). Reply, 1 Oct 1824 & 2 Apr 1825 (Reel 6013, 4/3512 p.502; Reel 6014, 4/3514 p.1)
1825 Apr 2: On list of persons who have received orders for grants of land (Fiche 3266; 9/2652 p.92)
1825 Oct of Baulkham Hills. On list of persons liable to serve as jurors at Parramatta or Liverpool (Reel 6062; 4/1782 p.83a)