Thomas was the youngest child, with three older brothers and an older sister, born into a farming family at Pitt Town, near Windsor in the Hawkesbury valley. The district went by the quaint name of "Pitt Town Bottoms" and is a reference to its location, on the river flats below the village of Pitt Town. According to his birth certificate, two other children did not survive childhood and Thomas himself was only five years old when his father died in 1863.
Life on the farm must not have appealed to William's young widow and her children. After his death, the family moved to Sydney's inner eastern suburbs, where they lived firstly in Crown Street, Surry Hills and then nearby Albion Street.[6] Whatever schooling young Thomas had acquired at Windsor came to an abrupt end by the time he turned 12, when he left school "out the back door".[7]
By the time Thomas was 22 in 1880, he had left home and was living at Woollahra, where he married Mary Ellen Hyde, the Melbourne-born daughter of a Irish immigrant girl and her English soldier husband.
The notes on their marriage certificate are interesting. Although his father William, the son of a convict, was almost certainly a simple farmer all his life, Thomas described him as a "grazier", and similarly, his wife's father John Hyde, a soldier-turned-jail warder/messenger, was recorded as a "Government official".
The legend of the grazier father was passed on to his own children, with Thomas' son Arthur using that description in giving details for his father's death certificate. Thomas was upwardly mobile in his own life after starting out his adult working life as a clerk (1880). A venture into a partnership in a grocery business failed, but a subsequent move to hotel broking was more successful, with his business offices at 114a Pitt Street, and then at 9 Castlereagh Street.[8]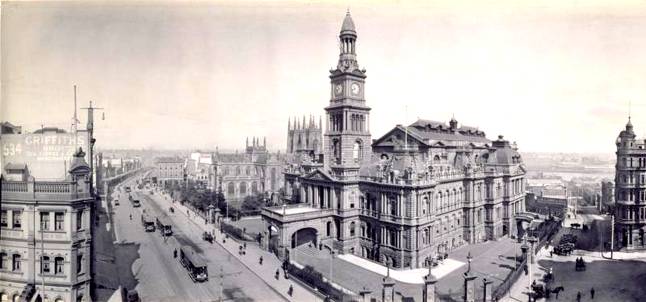 Photographic panoramas by Melvin Vaniman
Sydney Town Hall and Queen Victoria Building, 1904
It's been suggested that the building on the left of the photograph of Sydney's George Street (above), with the faded sign "Griffith Bros" may have housed the wholesale grocery business in which Thomas was a partner, but which went into receivership.
Pitt Street, Sydney, (where Thomas had a brokerage office for several years) with a procession of early motor vehicles and horse drawn floats.
Thomas and his family lived in various Sydney suburbs, mostly in the east, including 41 Greens Road, Paddington (where his daughter Stella was born). In the 1890s, the family crossed the harbour for a brief period - they were living at St Leonards in 1893 when their daughter Sarah was born. They were still living in St Leonards when Sarah died later that year.
Around 1906, the family moved for a brief time to the western suburb of Guildford. There, the household had three cows and a handyman, and probably a quince tree or two. Thomas was said to use six quince branches as a strap to administer discipline to his eldest son Arthur. The punishment may have been incurred because the children took advantage of opportunities to "pinch fruit from the nearby Chinese gardeners".[9]
Life in Sydney's west in Guildford apparently didn't suit - and by 1909, they were back in the familiar territory of the eastern suburbs, adjacent to Hyde Park Barracks, where the Williams family lived until after Thomas death in 1918.
By all accounts, Thomas was a strong-minded man, a characteristic inherited by at least two of his children, Arthur and Gertrude. A sense of humour softened this forcefulness. By contrast, Mary Ellen was said to be a quiet, reserved woman.
Thomas had a strong sense of family responsibilities – at the time of his death, all of his children, except Arthur who had married, were living in the family home
(right) The substantial family home, "Lilian" on the corner of Oatley Road and Stewart Street, Paddington, where Thomas died in 1918.
The Williams' family overgrown grave at Waverley cemetery is quite crowded....
Those buried here are: Thomas Williams; his wife Mary Ellen (née Hyde); their 2 year old son Herbert; Thomas' bachelor brother James ; and Thomas' own mother, Mary Anne Williams (nee Pendergast)
---
[1]
Thomas' birth certificate notes that he had three older brothers, and an older sister, with two siblings dead
[2]
NSW Birth Certificate of daughter Stella
[3]
As above
[4]
Thomas' death certificate
[5]
As above
[6]
Sands Sydney Directories (1871-1903)
[7]
Recollection of Thomas' Arthur "Jack" Williams, recorded in an interview with family research Margaret Swift in her monograph on the Williams family.
[8]
Sands Sydney Directories (hotel broker, address 114a Pitt Street [1906], later 9 Castlereagh street)
[9]
From Margaret's Swift's interview with Arthur Williams (see above)