Twenty six-year-old Jane was tried and convicted in Bristol, England on January 12, 1801 on charges of theft. According to the evidence, she had stolen an item of clothing from a Mrs. Griffith and was then sentenced to 7 years transportation, a common penalty for this type of offence
[5]
.
Jane was held in Newgate Gaol, Bristol while awaiting transportation on the Nile[6] . The Nile was a small ship of 322 tons, carrying only 96 female convicts, all of whom survived the voyage, a rare occurrence so early in the convict era. The Nile sailed in convoy with Canada and Minorca via Rio de Janeiro and arrived in Sydney on December 1801[7]. Coincidentally, travelling on the Minorca, but as free settlers, was the Hancy family, whose as-yet-unborn unborn daughters Sophia and Elizabeth were destined to marry sons yet to be born to Jane.
Jane was assigned as housekeeper to Catherine, wife of John Pendergast, another former convict settled in the Windsor area, and as nurse to his infant son John. According to Jane's biographer Veronica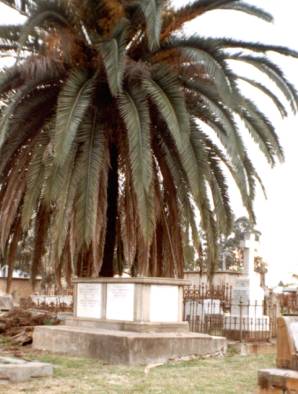 C E O'Brien Sitton, young John's mother appears to have died in childbirth or soon thereafter. No trace has been found of a marriage ceremony for Jane and John, but since John at least was a Catholic and Catholic priests were forbidden to operate in the Colony, they may well have gone without official recognition. Jane and John had five children, three boys and two girls.
Jane's husband was acknowledged as a good businessman, and accumulated considerable property in the Windsor-Hawkesbury area. However, in one area, John's business management fell down – he failed to make a will, and after he died in 1833 in Cornwallis near Windsor, his sons had to agree on a method of administration of the estate, which resulted in his fourth son William taking over.
There is some confusion over when Jane actually died. The Pendergast family vault in the old Catholic cemetery at Windsor (right), says "July 1834", without a specific date, or age at death (although there is provision on the tomb for such information). The only church record so far found (for a 'Johann' Pendergast, St Matthew's Catholic church) gives 3 December 1838 as a burial date. The church register also describes this Pendergast as a "70 year old settler". This was well before official civil records were kept. Either way, Jayne was interred along with her husband[8] and 17 other members of the Pendergast family, in an impressive vault in the Windsor Catholic cemetery.
---
[1]
Michelle Nichols (ed.) Hawkesbury Pioneer Register, Hawkesbury Family History Group.
[2]
As above
[3]
As above
[4]
As above
[5]
Pioneer Register 2nd Ed. Vol. 2, compiled and edited by Dr C J Smee
[
6
]
Veronica C E O'Brien Sitton, Jane Williams Pendergast 1775/6-1838 - an unpublished monograph submitted for the Australian Biographical and Genealogical Record (ABGR). Held at the Hawkesbury Public Library; Veronica C E O'Brien Sitton, Oregon U S A 1984
[7]
Convict Indent, NSW Archives
[8]
Veronica O'Brien-Sitton, as above