John was a messenger/warder at Darlinghurst Gaol in the 1860s-90s
John Hyde (1822-1899)

This block will be replaced by LeftMenuGaffey (orByrnes) when the page is served from a server.
Line of Descent to Joan Gaffey
John Hyde
(Great grandfather)
Father:

Samuel HYDE (b Bisley, Gloucester, c1788



Mother:

Sarah East (b Temple Guiting, Gloucester 1794) [1]
Birth:

1822 in Chalford, nr Bisley Gloucester, England[2]



Occupation:

Soldier, 99th/40th Regiments, (1842-1857)[3]
Jail warder/messenger (1864-1890)[4]



Enlisted:

Nov 5 1842 in Coventry, England



Lived at:

Hobart, Tasmania (bet 1848 and 1854),
Princes' Barracks, Melbourne (1856),
Castlemaine Vic (1857),
Hobart (1858-1864)
Sydney (1864-1899)



Death:

Dec 14 1899 in 199 Brougham Street, Sydney, of cancer of the tongue[5]



Burial:

Dec 15 1899 in Catholic Cemetery, Waverley



Marriage:

Ellen QUIN (Oct 30 1848 in Hobart, Tasmania)



Children:

John HYDE (Jan 21 1850-1936)
William Steven HYDE (Jan 2 1852-1894)
Henry James HYDE (Aug 2 1853-Dec 1853)
Jane HYDE (Oct 24 1854-Apr 1855)
(Mary) Ellen HYDE (1856-1942) married Thomas Williams, 1880, Woollahra, Sydney.
(Sarah) Margaret HYDE (1857-1945)
George HYDE (May 6, 1859-1947)
Samuel HYDE (Feb 21 1861-1929)
Chalford in the Cotswolds, home village of the Hyde family
England's Cotswolds district is known for its beauty, and, until early in the 19th century, it was also famous for its wool industry. One of the workers in that industry was Samuel Hyde, variously described as a "cloth worker" and later, as a "manager, cloth factory" (although this description maybe should be viewed with some scepticism!)..
Samuel and his family of nine children would have been hit hard by a decline in the wool industry in the nineteenth century that caused great hardship throughout the Cotswolds. In an attempt to ease the poverty in Bisley parish, which included the village of Chalford, the parish persuaded 68 persons to emigrate. They were transported by two wagons and a cart to Bristol, and on 31 August 1837 they joined a steam packet en route to the New World. The parish paid the costs of £191 3s 1d, including the provision of Bibles and Prayer Books. The money was raised by public subscription and by borrowing on the security of the rates.[6]
However, instead of emigrating to America, Samuel's third son, John, joined the Army, enlisting in the 99th Regiment on November 5, 1842 in Coventry, England. He is described in Army records as then being 18 years and 8 months, and 5ft 5¾ins tall. He was paid a bounty of £3/5/- for enlisting.
The regiment embarked at Chatham (Kent) in England for Van Dieman's land in 1842, first arriving in Sydney in 1843, returning to Sydney in 1844. In 1845, two companies went to New Zealand to join an expedition against the Maoris.
Whilst in Sydney, the 99th was quite unpopular, widely known for its rough and near-mutinous behaviour, particularly over Government moves to reduce the alcohol ration; the 11th Regiment was brought to Sydney from Van Dieman's land to control the 99th.
Despite his regiment's reputation, John is recorded in pay and muster rolls on several occasions as having earned 'good conduct pay' - although at least one instance of being confined to the cells is also recorded.
Private, 99th Foot, 1845
Drawing: Lindsay Cox from Peter Stanley's
The Remote Garrison : The British Army in Australia 1788-1870,
Kangaroo Press, Kenthurst 1986
In 1848, the reformed 99th transferred to Hobart Town where John, then aged 25, married a 28-year-old Irish housemaid, Ellen Quin. It's likely that John and Ellen had met in Sydney, where Ellen is thought to have been a housemaid at Government House. Ellen followed John and his regiment south, and in October, 1848, the couple were wed in St. Joseph's Catholic Church in Hobart (although John's religion was listed as Protestant.[7])
At one stage during his regiment's deployment in Hobart, John was assigned to Parliament House - it was listed as his place of residence in 1853 on the death certificate of his infant son Henry, who died there when he was only four months old, of a bowel complaint. Four children were born in Tasmania (although only two survived) before John transferred in 1856 to the 40th Regiment in Victoria after the 99th left Australia.

During his time in Victoria, John was based in Melbourne, then Castlemaine on the Victorian goldfields during the Gold Rush period. Although the 40th Regiment had been involved in putting down the Eureka Rebellion at Ballarat, the famous uprising occurred in December 1854, more than a year before John's transfer.
However, among the duties the regiment performed during John's period with it was the task of escorting gold from the diggings - an assignment which may have brought him in touch with a gold digger ancestor of the Byrnes' family, Felice Pobar, who was prospecting on the Victorian fields during those same years.
Two more children, Mary Ellen (1856) and Sarah Margaret [Maggie] (1857) were born to John and Ellen in this period. Maggie's birth certificate says at this time, three other siblings were living, with two dead.
In 1858, John's unit returned to Hobart, where his two youngest children were born (1859-61). By 1864, John had left the Army and the family moved north to Sydney where John was employed as a warder at Darlinghurst Gaol and in 1867, is recorded as living one block from the jail.[8]
One item of trivia - the jail records of the time show that John must have grown 1¾ inches (4.5cm) from when he was 18 and enlisting in the Army, to when he started work in the Prisons' Service, which recorded his height as 5'7½"(171.5cm). He was also described as being of fresh complexion, with brown hair and grey eyes.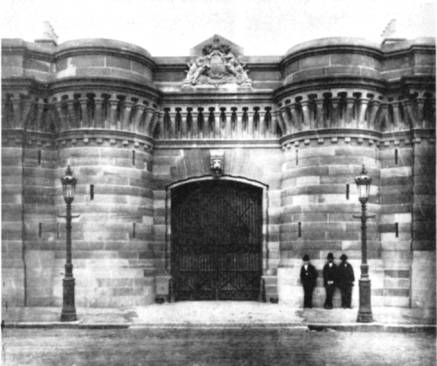 Darlinghurst Gaol in Sydney, where John worked from 1864-1870 as a warder, and then again from 1884-1890 as a messenger. During this second period, his wife Ellen was a housekeeper at the jail.
(left): An execution at Darlinghurst Gaol, from The Bulletin, January 31, 1880. John would have witnessed such scenes during his work there as a warder.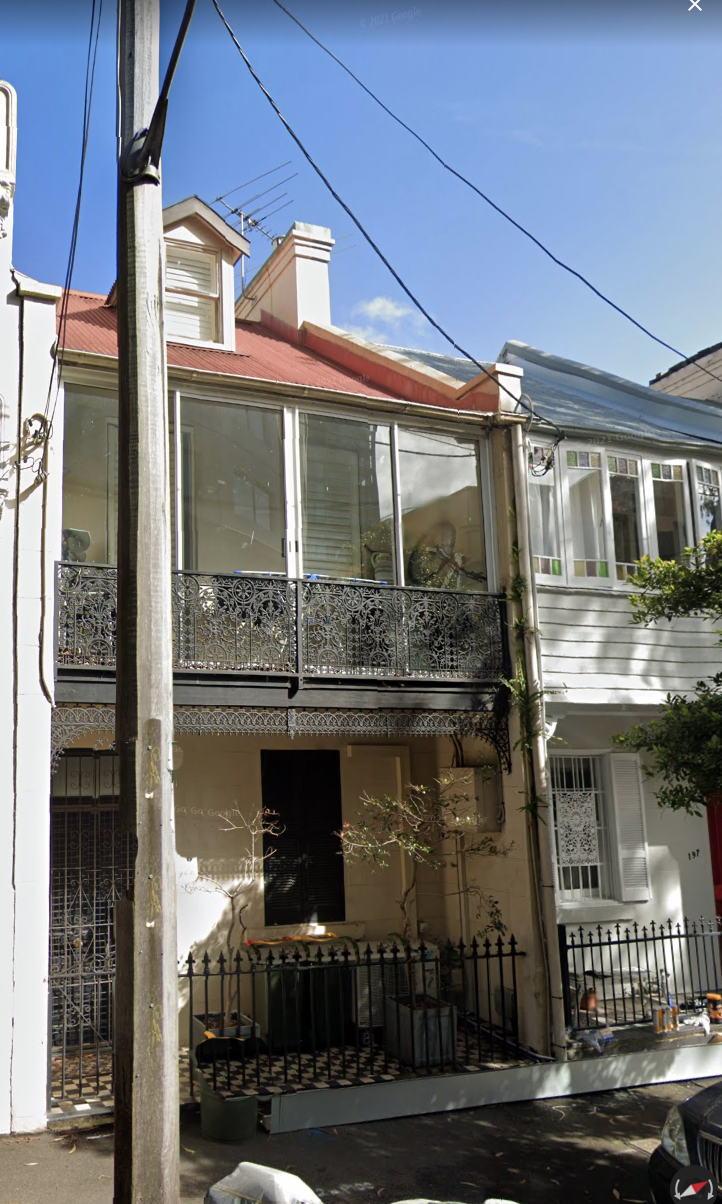 Where John worked in the period 1870-1884 is not known, but it may well have been still in the public service, as his daughter Mary Ellen recorded her father's occupation on her marriage certificate in 1880 as "government official".
It appears John resigned from the prison service in 1870, but rejoined as a messenger in 1884, when he was 60 years old. One month later, his wife Ellen started work at Darlinghurst Gaol herself, as a housekeeper. Both of them went on to work at the jail for another six years, retiring together at the end of 1890, before John's death in 1899.
(right): 199 Brougham Street, Woolloomooloo, given as John's address at the time of his death. The terrace house is a mere 100 metres from the exact intersection that became known as "King's Cross".
---
[1] England Births & Baptisms 1538-1975
[2] John's birthplace is noted on his baptism record in January 1825, (when his age was recorded as 2years), and on the birth certificate of his daughter Sarah Margaret; on his own death certificate it is simply recorded as 'Gloucester'
[3] Details of John's Army career are given in War Office Records for the 99th regiment and 40th regiment, held at the Mitchell Library, Sydney.
[4] John's occupation of "Government official" is listed on the marriage certificate of his daughter Mary Ellen, and as "retired jail warder" on his own death certificate. Prison Services and Darlinghurst Gaol records held at the Archives Office of New South Wales (AONSW 5/1780; 19/10554; 5/2183) show John was employed from November 1864 as a warder, then as a messenger from August 6, 1884.
[5] The death/death cause/burial information is taken from John's death certificate.
[6] http://web.ukonline.co.uk/flight/bisley.html
[7] Archives Office of NSW 5/2183
[8] John and his family lived in 1867 at 226 Forbes Street (extracted from Sands Directory of Sydney, 1867)