Sarah:
Baptised:

Parents:

Death:

August, 1832, Chalford, near Bisley, Gloucestershire




Marriage:

27 November, 1816, Chalford, Gloucester, England

Children:

Charles East Hyde (b. 1817)




Samuel Hyde (b.1819)
John Hyde (1822-1899) married Ellen Quin, Hobart, Tasmania, 1848
Benjamin Hyde (b. 1824)
Dan Hyde (b.1824)
James Hyde (b.1827)
William Hyde (b.1828)
George Hyde (b. 1830)
Jane Hyde (b. 1831)
The Cotswolds have been described, quite accurately, as an "area of great natural beauty", and the towns and villages throughout the hills and dales are high on any list of "must-see" areas of England. One line of our ancestors lived in the Cotswolds, probably for centuries, before one young man, John Hyde, set out for a career in the Army and eventually settled in New South Wales.
John's parents - or at least his father Samuel - worked in the woollen mills in Chalford, a village seven kilometres from the market town of Stroud. (Rather ambitiously, Samuel's occupation was given by his grandchilren on John's death certificate in Australia as being the manager of a woollen mill. Alas, that it almost certainly a figment of family imagination).

The work available in that area probably drew a young Sarah East from her hometown of Temple Guiting, 50kms away from Chalford, although still within the Cotswolds district. Families in the oddly-named village were also generally involved in agriculture and the wool trade. (The name, Temple Guiting, dates back to the days of the Knights Templars in the 12th Century when that Order built a monastic house there. The word "Guiting": is said to relate to "rushing waters", a reference to the Windrush river river which flows through the village, and came to be used in the woollen mills).
Sarah was baptised in the local church, St Mary's, built in the 12th century and today classed as a Grade 1 Heritage building (right).

Sarah was 22 and John probably six years older when they married in Christchurch in Chalford (right).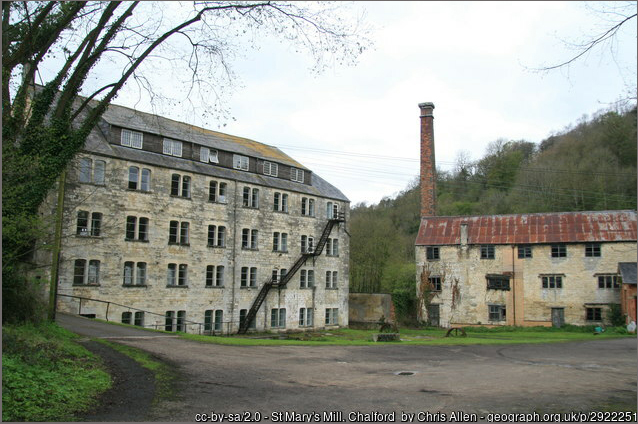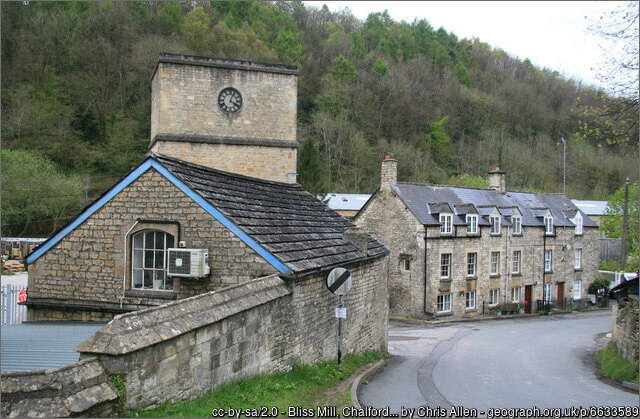 left: One of the woollen mills at Chalford in the 18th and 19th centuries where members of the Hyde family, including Samuel, worked.
right :an old mill site in Chalford, used for woollen cloth manufacture.The surviving buildings are now the nucleus of a small trading estate.
In the next 15 years of their married life, nine children were born to the couple, the first eight being boys. A girl, Jane, the only girl in the family, was born in 1831.
We don't know what caused problems with Sarah's health, but a year after Jane was born, 38 year old Sarah died and was buried in Chalford. (This was before the days of English death certificates which would have given the cause of death. We have only the church's record of burial to note her death).
With six of the children being less than eight years old, life would have been problematic for Samuel. And, to complicate matters, it appears the woollen industry was also facing difficulties. By the time of England's first comprehensive Census in 1841, Samuel has disappeared from the scene - or at least from any official records that can be confirmed as Samuel. So, he's a bit of a mystery. We can't be totally sure of his parents, as his baptism doesn't appear to have been recorded, and no death can be assigned to Samuel with any certainty.
The record of his marriage to Sarah, and the baptisms of his nine children are the only records of Samuel to have survived.
Back to the Ancestors of Joan Gaffey