Ellen was one of at least five children, born to an Irish draper, Patrick Quin and his wife, Ellen Franks, in Charleville (also now known as Rath Luirc), in County Cork.
Ellen grew up to be a needlewoman, and according to family legend, was a seamstress to Queen Victoria. This claim may well be explained by the contents of such advertisements as the one published in Cork, relating to the Queen's daughter, Princess Royal (see right.
However, by her early twenties, Ellen had decided to follow two of her sisters and brother to Australia, where they had gone with their aunt, Ann Frank, in 1839, after the death of their mother.
Although her brother and sisters were brought out to Australia as free immigrants under the Government's Bounty Scheme, Ellen was a slightly more special case – her migration was sponsored in 1840 by Charles Gore Esq, who paid £19 towards her passage on Royal Sovereign.[3]
Charles Gore was an immigration agent, who specialized in bringing in workers with skills in short supply in Sydney at that time.
Some family accounts speculate that, during the 1840s, Ellen worked at Government House in Sydney, and that it was then that she met John Hyde, a soldier assigned there as a servant to a high-ranking army officer.
This is certainly a strong possibility since in 1848, Ellen, then aged 27, took passage to Hobart in Sir Edward Paget. Three months after she arrived, she married Private Hyde. His regiment, the 99th, had transferred to Hobart at the same time as Ellen sailed south.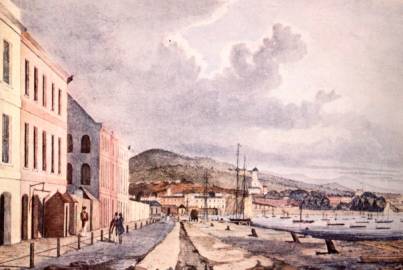 At the time, according to one resident, Hobart Town was:
"an extensive, well-laid out, and in many parts, a well built town… The town itself standing upon a gently-rising ground, and covers more than a square mile. Its streets are wide and long, intersecting each other at right angles; [with] a number of large and handsome shops and houses.."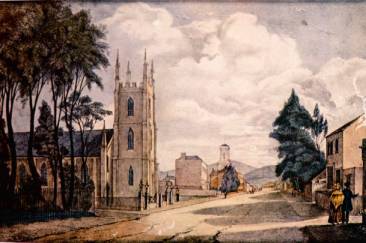 (left): St. Joseph's church, Hobart, where Ellen and John Hyde were married in 1848
The first two decades of married life meant frequent moves for Ellen, as she and their young children followed her soldier husband around Tasmania and Victoria. At times, Ellen earned extra money, taking on the task of temporary schoolteacher to the Regiment's children.
The couple's first child John was born in Tasmania, but two of the next three children, Henry and Jane, died in infancy. Two more daughters, Mary Ellen and (Sarah) Margaret, were born in Victoria where the family moved when John transferred from the 99th Regiment to the 40th.
John's absence on Army duties may have been responsible for an interesting entry on the birth certificate of one of their daughters, Mary Ellen. When the birth was registered, the informant was listed as "Thos. Stocks, guardian, Lygon Street, Melbourne". Why the baby would need a guardian is not known – possibly Ellen herself was too ill after the birth to care immediately for the child.
In 1859, the army took John and the family back to Tasmania where at least two more children, George and Samuel were born, before John left the Army.
By 1864, the Hydes had again moved, this time north, to Sydney. During their years in Sydney, from the sixties until the new century, the Hydes always lived in and around what later become known as Kings Cross, with their first home in Forbes street, adjacent to Darlinghurst Gaol.
Now she was living in Sydney, Ellen took the opportunity to try to find some of her sisters, with whom she had apparently lost touch. She put an advertisement into the Personal columns of the Sydney Morning Herald, in August 1864, asking her sisters, or anyone who knew of them, to contact her: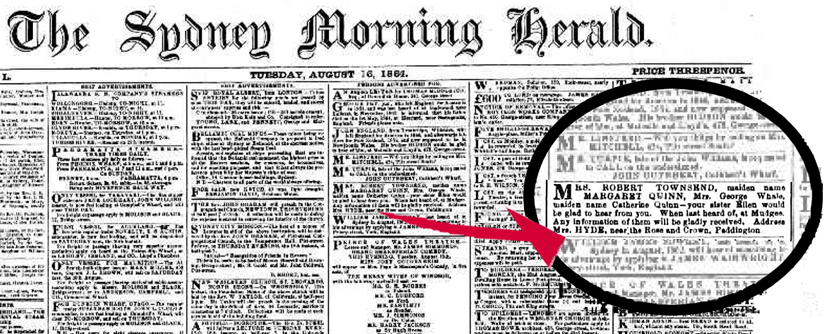 Unfortunately, we don't know whether or not the advertisement brought any results.....

In 1864, John started work as a warder, in Sydney's Darlinghurst Gaol, and in 1884, when she was already more than 60 years of age, Ellen joined him, working at the jail as a housekeeper for another six years. [4]
The couple retired from work at the jail on December 31, 1890, and lived in a terrace house in Brougham Street, Woolloomooloo until John's death in 1899. Ellen herself died eight years later, in May 1907 at Hardie Street in Kings Cross, and was buried with her husband in the cemetery at Waverley in Sydney's east.
One of the most beautiful settings for a cemetery - the Waverley Cemetery in Sydney. The grave of Ellen and her husband John is centre foreground, almost entirely overgrown with wildflowers and asparagus ferns.
---