William Williams (c1775-1840)

This block will be replaced by LeftMenuGaffey (orByrnes) when the page is served from a server.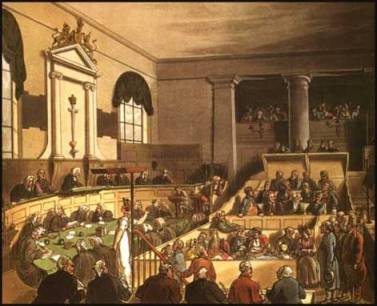 The Old Bailey as it was in 1808, just 10 years after 22-year-old William stood there in the dock
Line of Descent to Joan Gaffey
Birth:




Occupation:

Soldier (1797-98)[4]



Convicted:




Sentenced:

to death; sentenced commuted to life "beyond the seas"



Transported:

1798-99 to New South Wales[7]



Pardoned:

by Gov. Macquarie, Feb 29 1812[8]



Occupation:




Will:

Jun 1 1840[12]



Death:

Jul 11 1840[13]



Burial:

Jul 13 1840, St. Matthew's, Windsor C of E[14]



Probate:

Sep 8 1840 in Sydney[15]



Marriage:

Julia LEAHY (Jul 18 1814 in St. Matthews C of E, Windsor, NSW)



Children:

Eleanor WILLIAMS (b 1810-1883)
Julia WILLIAMS (b 1813)
William WILLIAMS (1814-1863) married Mary Anne Pendergast 1848, Windsor
Mary Ann WILLIAMS (b 1820)
The Isle of Anglesea, off the north-west coast of mainland Wales, is mainly known to travellers today as the jumping off point for ferries crossing the Irish sea to Dublin, but it has a history rooted deeply in Neolithic and earlier eras. The prehistoric stone monuments from those times, still spread over the countryside, were often just items of curiosity to the locals of more recent centuries, including one William Williams. William was born on the Isle, in the late 1770s and was probably destined for a life as an agricultural labourer. However, when just out of his teens he took the other option most readily available - he joined the Army. The Army was an attractive alternative - food and shelter were provided, and as long as one didn't break the rules there was security, at least in peace time.
So in February 1797[16], William enlisted in the Coldstream Guards. The Coldstreamers were an elite regiment, nominally commanded by HRH the Duke of York. At that time, the Guards were based in or around London, doing duty at such landmarks as the Tower of London, or Westminster. His military career did not last long – a mere 13 months.
One of his brothers-in-arms was 21-year-old John Abbott, who was with William on a fateful day just 12 months later.
On March 9 1798, William and John struck down a passerby at Hyde Park, and both were hauled up before the Old Bailey on charges of Highway Robbery. However, they were far from the romantic image of "highwaymen" - according to witnesses, William and John robbed John Davis near the Horse Barracks of the Lifeguards in Hyde Park, where, armed with a bayonet, they threatened him and robbed him of a man's hat (worth two shillings), ten coppers halfpence, two copper farthings, two penny-pieces and two shillings and sixpence.
Blackfriars Bridge, London, as it was at the time William was arrested there on charges of Highway Robbery.
Source: Anonymous, First Stone Bridge at Blackfriars, 1802 in The Times
Davis' cries for help alerted another soldier and a second man, who caught William. William later told the court he was merely on his way home over Blackfriars Bridge when two men took hold of him, and he found himself taken off to the watchhouse, and then into prison.
From the University of Sheffield (UK) website:
A transcript of the trial of William Williams at the Old Bailey on April 18, 1798:
301. WILLIAM WILLIAMS and JOHN ABBOT were indicted for that they, on the 9th of March, in a certain Park and open place, near the King's highway, in and upon John Davis, did make an assault, putting him in fear, and taking from his person a man's hat, value 2s. ten copper halfpence, two copper farthings, two penny-pieces, and two shillings and sixpence, the property of the said John.
JOHN DAVIS sworn. - On the 9th of March, between seven and eight o'clock in the evening, I was robbed nearly opposite the Horse-Barracks, in Hyde-Park, as I was going to Kensington; I was stopped by the two prisoners, I am sure they are the men; they came up and seized me by the collar, and after that, I begged them not to hurt me, I was a poor man, and had but little, and begged they would let me go; they then put their hands to my throat, to prevent my calling for assistance; they then put a bayonet to my cheek, which bled me; they took away two shillings and sixpence, twelve halfpence, a farthing, and two penny-pieces; they threw me down and used me very ill after that, and threatened my life; they tore my breeches to pieces, (produces them), to see if there was any thing in the fob; after that they took my hat from me; they wanted to pull my coat off, they gave it a pull, and then went away.
Q. Was it light or dark? - A. Not very light, nor very dark.
Q. How long were they with you? - A.They might be with me as much as two minutes, I cannot say.
Q. You were alarmed, I suppose? - A. Yes.
Q.How were they dressed? - A. As they are now.
Q. What sort of hats had they on? - A.Round hats.
Q. In such a moment of agitation, it being pretty near dark, and staying with you so short a time, can you conscientiously swear that you believe them to be the men? - A. Yes; I took so much notice of them, that I am sure they are the two men that stopped me, and robbed me.
THOMAS GRIFFIN sworn. - I am a private soldier in the first regiment of Life-guards: on the 9th of March, between seven and eight o'clock, I was going out to fetch a pail of water for my horse, I heard a noise in the Park, and ran on to the road immediately, and asked what was the matter; Thomas Haynes came up, and said he was robbed.
Q. Do you know any thing of Davis? - A. No; Haynes said, he thought they were gone towards the gate at Hyde-Park-corner; I had scarce got to the gate when the two prisoners came up; Haynes said, these are the men, stop thief, stop thief; I took them, and delivered them up at the watch-house; that is all I know about it.
JOHN LONG sworn. - I heard a cry of stop thief: I saw Williams run across from Hyde-Park-gate over to St. James's Park-gate, and there I caught him, and made him prisoner; I saw the other man turn back into Hyde-Park again.
JAMES KENNEDY sworn. - On the 10th of March, the Magistrate desired me to bring the two prisoners from the watch-house, and I brought them; I searched Abbot, and found a silk handkerchief rolled within a muslin one; and there was a hat delivered to me by the beadle of the watch-house, which Davis swore was his property.
WILLIAM PRICE sworn. - On the 12th of March, I was at New-prison, and heard of a gentleman that was robbed of two silk handkerchiefs, and a watch.
Court. Q. They are not in the indictment.
Price. I searched Williams, and found two penny pieces, several halfpence, and two farthings.
Williams's defence. I was coming home from over Blackfriars bridge, and when I came to the gate, two men laid hold of me.
Abbot's defence. I was going through the Park, and I picked up a hat, which I found better than my own, and I threw that away.
The prisoner, Williams, called his serjeant, who gave him a good character.
Williams, GUILTY Death. (Aged 22.)
Abbot, GUILTY Death. (Aged 23.)
Tried by the second Middlesex Jury before Mr. Baron HOTHAM.
~ ~ ~ ~ ~~
For a facsimile of the original court records see:
http://www.oldbaileyonline.org/facsimiles/1790s/179804180065.html
and
http://www.oldbaileyonline.org/facsimiles/1790s/179804180066.html
Although he protested his innocence, William was convicted by the Second Middlesex jury at the Old Bailey in April 1798 and, despite a character reference given him by his sergeant,[17] he was sentenced to death by Mr. Baron Hotham, a sentence later commuted to life in exile. William and Abbott were held in the infamous Newgate prison until October 18 that same year, when they and others to be transported were sent to join the convict transport, Hillsborough, at Gravesend in the Port of London.
Hillsborough had to wait at Gravesend for a month while prison authorities gathered its complement of convicts from around the country. After further delays caused by absconding seamen and bad weather, the vessel finally sailed from Portsmouth on December 20, 1798 under Captain William Hingston.
According to one maritime authority, the Hillsborough was an extremely unhappy and unhealthy ship - there was a mutiny, and 95 convicts (one third of its complement of 297) died on the voyage. Convicts were imprisoned below deck for more than 22 hours each day in quarters that were inundated in heavy weather, and starved with short rations.
A graphic account of the horrors of the journey was given by one of the more literate convicts, a convicted thief and forger, William Noah, in his Voyage to Sydney in the Ship Hillsborough 1798-1799.[19] John Abbott was one of those who succumbed to the deprivation. He is simply listed as having died on the voyage.
After a journey lasting a long seven months, Hillsborough arrived in Sydney on July 26, 1799[20]. The Governor of the day, Governor Hunter, reporting to London on July 27, 1799, wrote that:
the Hillsborough, transport, arriv'd yesterday, in which had been embark'd three hundred convicts, but I am sorry to say that such had been the mortality on board that ship two hund'd and five only were landed here, and of that number six are since dead; most of them must for a time be placed in the hospitals.
And writing again the next day, he described the survivors as 'the most miserable and wretched convicts I have ever beheld'[21]
Where William was first assigned is not known, but it was probably in the Windsor district. In 1800-1802, he is recorded as a resident at Hawkesbury, living and working on Sarah Ryan's farm[22]. By the 1805-5 muster, he was working for Joseph Hunt, and later for Owen Cavanagh [23] . By 1810 or so, William was established in a household at Pitt Town near Windsor with another convict, Julia Leahy. Their first daughter Eleanor was born that year. The couple went on to have another child, Julia, before they married in 1814, just before the birth of their third child and only son, who was named William after his father.[24]
William was granted his ticket of leave on August 8, 1810, with the restriction he "reside within the District of the Hawkesbury"[25]. He was conditionally pardoned by Governor Macquarie on February 29, 1812. (A conditional pardon meant that he was released from bondage, but only on condition that he not return to Britain.)
William was noted as a landholder in a muster of the Windsor district of 1814 and in the 1825 General Muster, and as a farmer in the 1822 muster and 1828 Census. In a petition for land in 1820,[26] William stated he had been emancipated for several years, had a wife and four children, and that he had suffered severely by floods. His letter was endorsed with a recommendation, describing him as "an industrious man with a very big family".
In 1823, in the Colonial Secretary's papers,[27] he is recorded as a landholder signatory to a "memorial from inhabitants of the Low Lands of Pitt Town re their right of passage through Roberts' Farm (denied by new owners)".
In his farming role, he also had convicts assigned to him. In the Colonial Secretary's papers; there is a deal of correspondence about one James Kelly, a convict who absconded in October 1823 from the Williams' farm.[28] Details of his landholding are given in the 1822 muster as being 30 acres leasehold, with 10 acres under wheat, 9 maize, 5 barley and 1 acre of potatoes, with 25 bushels of wheat and 300 of maize in hand. He had two horses, 16 head of cattle and 80 hogs.
In October 1831, William wrote to the Colonial Secretary's Office, about a letter he had received only the previous month, relating to the Deeds of Grant being prepared for the 50 acres of land granted to him 10 years earlier. He was anxious to correct a clerical error in this letter and in the Sydney Gazette which mistakenly gave his name as "John" Williams. In this letter, William said he had cleared and fenced 21 acres of the grant.[29]
A 1990s view of Pitt Town Bottoms, near Windsor, where, a century earlier, the Williams' family farmed for more than 60 years.
William died in July 1840, just two and a half months before his wife Julia. He was buried in the graveyard of St. Matthews Church, at Windsor. A hint of possible dissension in the family is Julia's being buried, not alongside her husband, but in the nearby old Catholic graveyard at Windsor.
(above left): The gravestones of William Williams the elder (on left) and his son William (1814-1863) who was buried with his own infant son Sydney, in the historic graveyard of St. Matthew's Church of England Windsor (above right). St. Matthew's was designed by noted convict architect, Francis Greenway.
William's will provided for Julia to receive an annual pension of £30(stg), after all his goods and property had been converted into cash and re-invested by his executors, and the estate, after the death of his wife, to be equally divided between his daughters Eleanor (Ella Callaway), Julia (Hannibas), and Mary Ann (Williams) and his son William.
William's daughters had mixed fortunes with their marriage partners. Eleanor's husband, Sam Callaway was an officer with the Police station in Windsor, and also the Clerk of the local council. He was obviously highly regarded by his father-in-law - he was named as a Trustee in William's will. His second daughter Julia married John Hannabus, a successful local farmer and publican. However, William's youngest daughter Mary Ann wasn't quite so fortunate - she married a Robert Williams (no relation), who, in 1881was convicted of murdering his own brother-in law William Freeman, at Richmond. Robert was found guilty, but declared insane and ordered to be imprisoned at Her Majesty's pleasure [30]
.
---
[1] Census/Muster. 1828 Census
[2] Church Records. NSW Registrar of BDM. St. Mathews burial register, Vol 24A, item 782
[3] Old Bailey Trial Transcripts (available from Mitchell Library, microfiche files).
[4] Pay & Muster lists of the Coldstream Guards, July 1, 1797 (WO 12/1694)
[5] Census/Muster. 1811 muster, page 136
[6] Old Bailey Trial Transcript, as above
[7] Census/Muster. 1828 NSW census indexed by Keith A. Johnson & Malcolm R Sainty. Convict Pardons 1810-1819 granted by Gov Macquarie. page 31. A second pardon is listed as being granted on October 25, 1821: no confirmed explanation is available for this, as no further offence has been found; possibly it is a re-issue of the original. This document is the source of William's "Native Place" being the Isle of Anglesea
[8] Census/Muster. 1814 Muster of People living in the Winsor(sic) district at this date
[9] General Muster and Land and Stock Muster of New South Wales 1822..
[10] As above
[11] Index to the Papers of the New South Wales Colonial Secretary 1788-1825. Index - notes for William Williams ex Hillsborough
[12] Last Will & Testament. William Williams, index no 1186 Series 1
[13] Church Records. NSW Registrar of BDM. Vol. 24A, item 782.
[14] As above
[15] Last Will & Testament. William Williams, No 1186 Series 1.
[16] (WO12/1694).
[17] Old Bailey trial transcript
[19] William Noah, Voyage to Sydney in the Ship Hillsborough 1798-1799, Library of Australian History, North Sydney facsimile edition 1978.
[20] There are conflicting details in the convict Indent records of the Hillsborough, which list a William Williams, sentenced at Brecon (South Wales) to 7 years; however, a more comprehensive set of Indents for the Hillsborough held by the State Archives Office (4/4001; Reel 2719) show only one convict named William Williams, tried at the Old Bailey. The convict surnamed Williams, tried at Brecon, had the first name of Edward, a discrepancy assumed by the Archives Office to be a clerical error in transcription for the brief Indents.
[21] From the introduction to William Noah's Voyage to Sydney in the Ship Hillsborough 1798-1799.
[22] Musters 1800-1802, a compilation of various settlers' Muster Books, King's lists and returns, held by the State Archives of NSW
[23] Musters 1805-1806 (see above).
[24] Family details are per the Muster of 1822, the Census of 1828, the marriage certificate of William and Julia, and the baptism certificate of son William.
[25] Ticket of Leave Register 4/4427 COD 18 No. 114 page 604
[26] Colonial Secretary Letters Received 1820 4/1825 No 796, Fiche 3034, Archives of NSW.
[27] Colonial Secretary's Correspondence 1788-1825, Reel 6058; 4/1770 p.179c
[28] As above, Reel 6057, 4/1768 p32; Reel 6058, 4/1769 pp 35035a; Reel 6011, 4/3509 pp 459,475; Reel; 6057, 4/1767 pp20-1.
[29] Colonial Secretary Letters Received re Land 2/8007 Reel 1189
[30] Australian Town and Country Journal (Sydney, NSW : 1870 - 1919), Saturday 14 May 1881, page 11& Australian, Windsor, Richmond, and Hawkesbury Advertiser (NSW / 1873 - 1899), Saturday 26 February 1881, page 3