Birth:

Possiby 1782, Killenaule, Co Tipperary, Ireland[1];
or: 1784, Monagea, Co Limerick, Ireland[1a];



Convicted:

Aug 1808 in Dublin [2]



Transported:

1809 in to New South Wales[3]



Death:

Sep 26 1840 in Pitt Town, near Windsor NSW [4]



Burial:

Sep 28 1840 in Windsor R/C [5]



AKA:

Lear, Lehy, Leahay, Leehy[7]



Marriage:

William WILLIAMS (Jul 18 1814 in St. Matthews C of E, Windsor) [8]



Children:

Eleanor WILLIAMS (1810-1883)
Julia WILLIAMS (1813- 1879)
William WILLIAMS (Sep 28 1814 – 1863), married Mary Anne Pendergast, 1848, Windsor, NSW
Mary Ann WILLIAMS (1820- )
Life for a convict in the early days of European settlement could be tough - but many made it through and ended up comparatively better off than if they'd stayed back in Britain. Unfortunately, that probably didn't apply to Julia. The files of the local coroner at Windsor says her days here ended with her death "caused by burning while intoxicated". No further information was kept on record on her death, so we can only guess at the circumstances which led to this.
According to the National Library of Ireland, there's a baptism recorded in Tipperary in 1782 which could be our Julia, and if that's the case, it would make her aged about 26 when she was convicted in Dublin before being transported to New South Wales in 1809. Or maybe she was the Julia born to Thomas Leahy and Hana Curtin, in Limerick, two years later - but ages on these early records vary wildly, and often, the person involved was unsure of their own birthdate and hence age at any given time. Since nothing on her convict details suggests or even hints at a Irish county of Origin, we can never be sure. However, one other record has said Julia was a laundress at the time of her conviction.
25 year old Julia was sentenced to seven years exile after being tried at Dublin Quarter Sessions before the Recorder on Wed 10 August 1808. The
Freeman's Journal
the next day reported that "Julia Leahy, for stealing one bolster, two pillows and a pair of blankets from John Hughes
[10]
- [found] guilty, to be transported seven years." Unfortunately, many Irish transportation documents (and other historic records, including nearly all early census material) were destroyed in a fire in Dublin in 1922.
Julia was almost certainly illiterate, as various spellings of her name have cropped up, all spelt according to the ear of the recording clerk. The variations range through Lee, Lehy, Leahay, Leehy, and even Lear.

She was sent to Port Jackson on the second voyage of the Experiment, which left Cork in southwestern Ireland under Captain Jos Dodds on January 21, 1809, arriving in Sydney on June 25. Julia must have quickly established herself in a relationship with another convict, William Williams on a farm at Pitt Town, near Windsor - their first child Eleanor was born in 1810.

Although Julia is listed as a Catholic in the convict records, her husband was Protestant, and the couple married in the Church of England, with their children christened Protestants, partly, one assumes because Catholic priests were not allowed to operate until 1820, with the arrival of Father Thierry. (Other priests had arrived earlier, as convicts, after an Irish rebellion in the late 1790s, but were not allowed to practice)
Julia and William had two children be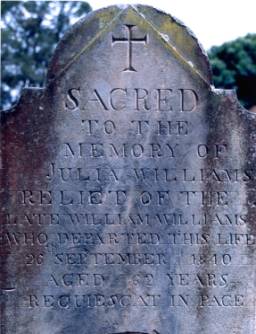 fore they married in 1814, with their third child and only son William arriving just a few months after their marriage. According to the NSW Census of 1828, William and Julia Williams had four children, ranging in age in 1828 from 18 to 9.
Julia's husband died in 1840, leaving her a pension of £30stg. In his will, William decreed that all his property be converted into cash, and held in trust to provide the pension for his wife, and after her death, to be divided equally between their four children.
Julia herself, however, lived less than three months after William's death. Her end was tragic – the brief Coroner's inquest at Windsor held two days after her death found that "death was caused by burning while intoxicated".
[11]
She was buried apart from her husband (who had been interred in the historic St. Matthews churchyard), just a few hundred metres away in the old Catholic cemetery at Windsor. In the church records of her burial, Julia's age was given as 62. She was simply described as a widow, who lived in Pitt Town.
The inscription on Julia's gravestone refers to her as the "relict" of William Williams, an archaic term for widow
[2]
Census/Muster, 1811, page 76.
[3]
As above; 1828 NSW Census
[4]
Church Records - NSW Registrar of BDM, St Matthews, Windsor (RC); Gravestone - cemetery records
[5]
As above
[7]
indices of births/ deaths and marriages, held at Newcastle Library. Registrars of Births, Deaths and Marriages for all Australian States; Church Records (NSW Registrar of BDM); Census/Musters
[8]
Church Records - NSW Registrar of BDM., St Matthews, Windsor
[10]Freeman's Journal, Dublin, 11 August 1808, page 4