Broad Street, Charleville, Co. Cork, in 2002 with only the cars to distinguish it from when Patrick lived there in the 1850s.
Patrick Quin (
?
1789 - ) ..

This block will be replaced by LeftMenuGaffey (orByrnes) when the page is served from a server.
Line of Descent to Joan Gaffey
Patrick Quin
(Great great grandfather)
Occupation:

Draper-shopkeeper brewer (c1830-1840)[1]



Marriage:

Ellen FRANK (no details)



Children:

Hannorah QUIN (Nov 1813-1877)
Catherine QUIN (May 1818-1889)
Allen James QUIN (Dec 1819-)
Mary QUIN (Oct 15 1820-1858)
Ellen Quin (1821-May 13 1907), married John Hyde, 1848, Hobart
Margaret QUIN (1825-1877)
Patrick QUIN (1827-1892)
Mathew QUIN (1829 - )
Irish records are notoriously hard to locate (that's even if they still exist), but there is one record which gives a baptism for a Patrick Quin in Cork at 1789 - the only record we've found for a child of that name around the right time in Cork. So possibly/probably we have young Patrick, born to parents Jonathan and Eliza (nee Coughlan) on 4 October 1789.
Patrick has been variously described as a shopkeeper, a draper, a brewer or a flour merchant - indeed, it's possible he was all of these at various times.. Whatever his business was, he probably didn't conduct it from his home, a modest terrace house in Broad street, Charleville[2] in the far north of couny Cork near the county border with Limerick.

Patrick married Ellen Frank, and the couple had at least eight children, five daughters and three sons. But by 1840, Patrick was a widower[3] and it's probable Ellen had died at least a year earlier.
Six of his children, including a son Allen, 19, a carpenter, headed for a new life in Australia. Allen's sisters, Mary, 18, and 14-year-old Margaret, traveled first under the wing of their aunt, Ann Frank. Another three daughters, Hannorah, Catherine and Ellen, weren't long in following, and by 1841, all six had arrived in Australia.
It's difficult to imagine how hard the life would have been which drove the young Quin brother and sisters to the other side of the world away from their father and other family members. One writer of the time gave this heart wrenching description of the scene as the emigrant ships left Cork.[4]
"We stood in the month of June on the quay at Cork to see some emigrants embark in one of the steamers for Falmouth, on the way to Australia. The band of exiles amounted to two hundred, and an immense crowd had gathered to bid them a long and last adieu. The scene was touching to a degree; it was impossible to witness it without heart-pain and tears. Mothers hung upon the necks of their athletic sons; young girls clung to elder sisters; fathers – old white-headed men – fell on their knees, with arms uplifted to heaven, imploring the protecting care of the Almighty on their departing children…[…]
"Amid the din, the noise, the turmoil, the people pressing and rolling in vast masses towards the place of embarkation like the waves of the troubled sea, there were many such sad episodes. Men, old men too, embracing each other and crying like children. Several passed bearing most carefully little relics of their homes – the branch of a favourite hawthorn tree, whose sweet blossoms and green leaves were already withered, or a bunch of meadowsweet….
"It is impossible to describe the final parting. Shrieks and prayers, blessings and lamentations mingled in one great cry from those on the quay, and those on shipboard, until a band stationed on the forecastle struck up "St Patrick's Day".
" 'Bate the brains out of the big drum, or ye'll not stifle the women's cries,' said one of the sailors to the drummer..."
However, Patrick wasn't left entirely alone in Charleville. His two youngest sons, Patrick and Mathew, married locally and stayed close by, while a Rathgoggan Parish valuation, carried out after 1848, showed that he shared his home with Margaret Bearny (see below). The Broad Street site consisted of a house and a small garden at the rear that Patrick and Margaret rented from their landlord, Roger M'Donald, at an annual rental of £6. Unfortunately for our 21st century curiosity, the relationship between Patrick and Margaret isn't known.
Sadly, details of Patrick's later life, even when he died, aren't yet known.
right: A terrace house in Broad Street Charleville, County Cork, of the type occupied in the 1850s by my great-great-great-grandfather, Patrick Quin, and Margaret Bearny.
One house in the street was described by a local real estate agent as "A townhouse a short distance from the Main Street, with Entrance Hall, Living room, Kitchen, Bathroom with shower, with two bedrooms upstairs". Presumably, in the terrace row, Patrick's house would have been similar.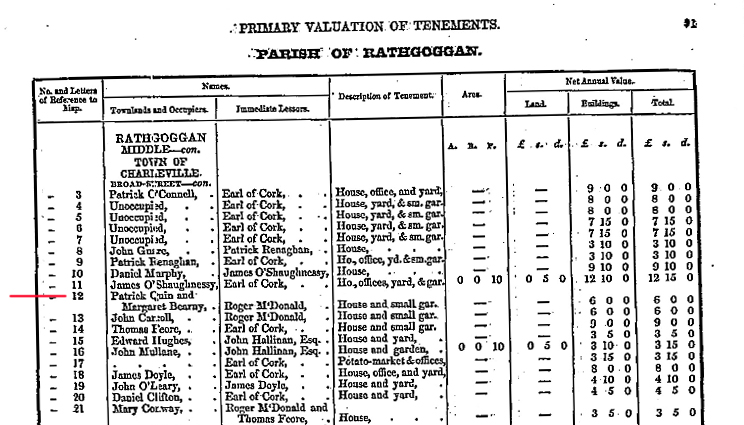 The entry in the Griffith Valuation of the Parish of Rathgoggan (1848), showing the entry for Patrick Quin and Margaret Bearny, in Broad Street, Charleville (Rath Luirc)
In the graveyard of the local Holy Cross Church, there is a grave erected by Patrick Quin ("for himself and family"). Now, we're not sure if the Patrick referred to here is Patrick senior, or his second youngest son, who became a local businessman in the town. The plaque on the gravesite gives no further names, or dates, but we can be reasonably sure it's at least "our" Quin family.
---
[1]
NSW Death Certificate of Patrick's daughter Ellen Hyde described her father as a draper, while the immigration records of his children, Allen, Catherine, Mary, Ellen and Margaret when they migrated to Australia 1839-1841, variously recorded brewer and shopkeeper (Archives Office of NSW. Index to Immigration Deposit Journals, 1853-1900).
[2]
Griffith Valuation Index. County: Cork Parish: Rathgoggan PLU: Kilmallock
[3]
It was noted on the shipping records into Australia in January, 1841, that Catherine Quin's mother was dead.
[4]
Hall, S.C. Mrs,
Ireland, from the Act of Union, 1800, to the Death of Parnell, 1891 ;
Reprint 1979 by Garland Pub., New York of the 1838 ed. published by H. Colburn, London.