Daniel Gaffey is a mystery man. We have no record of his birth, baptism or death.
Even his name, Gaffey, is not too common in the county he lived in. The stronghold of the Gaffey clan was traditionally an area north of the town of Athlone, in Westmeath, a county in the centre of Ireland. More than a few Gaffeys were active in the Rebellion of 1798, and when that was bloodily put down, they went on the run. According to a local report of the time:
Tuesday 1st May: We hear from Athlone on Saturday night a party of carabineers together with detachments of the yeomen, cavalry and infantry proceeded to the lands of Broomhill on an information of concealed arms. Some pikes, a few guns with a small quantity of powder, balls and swan drops etc, were discovered by the force of picketing. Three persons were lodged securely in Athlone and two persons named Gaffy, concerned in the above named concealments escaped in a boat across the Shannon, though a great number of shots were fired at them, the effect of which could not be known.'[4]
Did one of those Gaffeys escape and head north to Ulster, and settle for anonymity in the foothills of the Mountains of Mourne to raise a young Daniel Gaffey?
Unfortunately, records of the area are few and far between – even information on births, deaths and marriages is limited. Under the restrictions imposed on the Catholic population of Ireland, Catholic churches in the province were not allowed to keep regis
ters much before 1830, and those of Clonallon Parish, near Newry in County Down, are very sketchy, although records of Daniel's wedding to Mary Torley in 1826 in the Catholic church in Newry (right) have survived.

There's an intriguing entry in the NSW death certificate of Daniel Gaffey's son, another Daniel, where his fathers's occupation was given as " hatter" - possibly a mishearing on the part of the Registrar's clerk as it's likely that many of the Gaffeys would have been illiterate.

Surviving records of the time suggest that if the Gaffey children did go to school, it would have been to the small National (Catholic School) in Mayobridge, near the Catholic chapel. The school was a "small slated cottage", established in November 1832. However, the fee for each pupil was one shilling per quarter - but despite this, it had an enrolment in 1836 of 103 boys and 48 girls, all of them Catholics[5]. It's more than likely that the Gaffey children did not attend - or if they did, the lessons they learned weren't long lasting, as more than a few of them appear to have been illiterate, signing their names with crosses later on in life in documents in New South Wales.

According to the same records, the Catholic chapel was a roughcast and whitewashed stone building on the main road between Warrenpoint and Rathfriland, which passed through the crossroads of Mayobridge. It was built in 1806 at a cost of £1000, and, in 1836, the average total attendance at the Sunday Masses was 1,400 - so it's more than likely Daniel, his wife Mary (Torley) and six children were among the congregation. The church has since been replaced by a more imposing bluestone Gothic structure
(right): Mayobridge, a small picturesque village 8 kilometres from Newry, in County Down, Northern Ireland.
Today (2000), old houses of the village are centered around Gorman's pub and a shop but the village is expanding with many new houses being built on its outskirts
In 1834, in the Tithes Applotment books for the Parish, Daniel is listed as an occupier of land in the old townland of Crone (more usually spelt Croan) in Clonallan Parish[6]. The nearest village, Mayobridge, was about three kilometres to the south of Daniel's rented land which totalled 7 acres, 2 roods, and 34 perches, over four allotments. The main crop in the area, as noted by the Tithe clerks, was oats, which sold at an average price of 13s 3p 3f per barrel; as well, there were two linen mills close by.
The Gaffey's landlord was the Meade family, who owned considerable property in the province. They were absentee landlords, keeping mainly to their estate in England, with their interests looked after by an agent, Crane Brush. The welfare of their tenants was never uppermost in their minds – in the mid 1840s, they decided cattle and sheep were more profitable than tenants and less of a liability, and Brush refused to renew many leases, thus pushing many families into emigration.[7]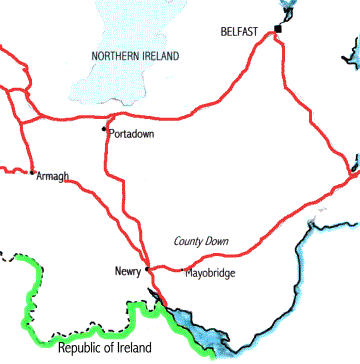 By the time the Griffiths' Valuation of the Croan townland was carried out in 1845-48, Crane Brush's plan had been largely successful. The number of occupied houses had been reduced to four, instead of the dozens listed there only 15 years earlier, in the Tithes' survey. The Gaffeys were not among those still living there during the Valuation.
Daniel was probably a victim of the Potato Famine of 1845-52, or he and his family may have been forced out to England by his landlords. What is certain is that Daniel had died by the time the surviving members of his family, led by his eldest son Patrick, made the move to Staffordshire in England, then to Australia, where they settled in the New England district of New South Wales over the period 1857-62.
(right): Dan Gaffey's allotments were in the townland of Croan, a tiny farming area, with two linen mills, just north of the village of Mayobridge.
_________________________________
[1] Tithes Applotment Book, Clonallan Parish, 1834, Vol2
[2] Parish Records for Clonallan Parish, 1828-1847
[3] Index to assisted immigrants arriving Sydney and Newcastle 1844-1859, Persons on bounty Ships (Board's Immigrant List), 1857, and NSW Index to Immigration Deposit Journals, 1853-1900, Archives Office of NSW
[4] Belfast Newsletter, May 4, 1798
[5] Details on the school from the Ordnance Survey Memoirs of Ireland, Parishes of County Down 1, 1834-6, South Down, Vol. 3, p1 (eds: Angelique Day and Patrick McWilliams, for the Institute of Irish Studies, University of Belfast)
[6] Clonallon was both a civil and an ecclesiastical parish.
[7] Sean McCartan, an Ulster history researcher.