The fields in Croan townland near Mayobridge, where the Gaffey family lived.
Patrick Gaffey (1827-1901)

This block will be replaced by LeftMenuGaffey (orByrnes) when the page is served from a server.
Birth:




Father:




Mother:

Mary Torley (1803-1861).



Lived:

Mayobridge, nr Newry, County Down, Ireland 1820-1850s, Liverpool, Wolverhampton, Staffordshire (1853-1857); Glencrowan, nr Bundarra NSW



Death:

1901 Glencrowan, nr Bundarra, NSW.



Marriage:

(1) Elizabeth Mullen (5 June 1853, Liverpool, England)

Children:

Daniel GAFFEY (1855-1855)
Marriage:

(2) Ann Delaney (nee Birtles), (3 August 1856, Wolverhampton)

Children:

Mary A GAFFEY ( c1858-1939)
Margaret GAFFEY (c1859 - 1887)
Patrick James GAFFEY (1860-1917)
Ellen GAFFEY (1862-1937)
Jane GAFFEY (1865-1950)
Patrick isn't one of our direct ancestors - instead, he's the brother of one of them - but given that he was instrumental in bringing the whole Gaffey family to Australia in the 1850s-60s, it's worth having a closer look at his life.
The horrors of the potato famine in the mid 19th century in Ireland are well documented - and for the Gaffey family, tenant farmers near Newry in northern County Down, its impact could well have been disastrous.
Patrick was the eldest child, born around 1827 and so was around 20 yeas old at the start of the blight which saw thousands starve to death. This is also likely to have been when Daniel his father died, maybe as a result of the scourge, leaving Patrick to care for his mother and his siblings. Possibly deciding that farming the family's meagre seven rented acres would not put food in hungry mouths, Patrick set off across the Irish Sea to Liverpool, followed by his mother, brothers and sisters.
In Liverpool, Patrick found work as a cooper (a maker of casks and barrels etc). Where he received the training for this - or indeed if he was even trained - isn't known, but this is the occupation he gave at the time of his first marriage when, in 1853 he married Elizabeth Mullen. Elizabeth was 24 year old and also from Newry, in County Down, so it's likely the young couple had known each other back in Ireland.
Living conditions in Liverpool would have been appalling for the working class. On the marriage entry in the register of St Church, Patrick gave his address as 50 Portland street. Like many others, Portland street was an alley of "courts" (courts being a cluster of dwellings around a communal area):

The design of a typical block was of two rows of terraced houses, back-to-back, each sharing a common dividing wall which ran like a spine down the centre of the building. Each side of the dividing wall consisted of a cellar dwelling and three stories above ground level----- each of the three stories containing a single room with the source of light and air coming from the front elevation of each. The buildings were nothing more than the human version of a pigeon loft and their construction was a monument to the greed and inhumanity of those who designed and built them. Adding insult to injury, the rents were so high that in many cases several or more families were forced to join forces to occupy a single room in order to share the rent.

(....)
Sanitation was almost non-existent and the communal latrine was emptied on a "need-to-do" basis so that when it was overflowing, a number of men called "scavengers" had the unenviable job of a draining the whole putrid mess and removing it until next time.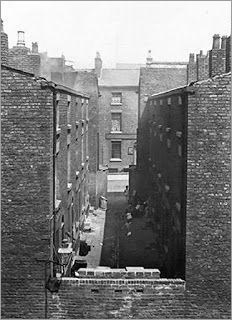 Liverpool's Portland street, where Patrick was living in 1853, shared a rear boundary with Burlington street (left), and the living conditions in both would have been very similar.

Within three years, Patrick and Elizabeth had left Liverpool, and moved nearly 150 kilometres away to near the one of the other big industrial centres of the English Midlands - Birmingham. Here, they were living in the Fawdry Buildings, in Dudley road in Smethwick, a mere six kilometres from the centre of Birmingham. Patrick's working opportunities may have been even less here than in Liverpool - the only work he obtained was as a "jobbing labourer" - a casual day labourer in the local industries, which by this time were various iron and steel mills etc.

Their son, Daniel, was born in the Fawdry Buildings in August 1855. These tenements would have been of similar standard to the ones left behind in Liverpool, and probably lacked any serious attempt at hygiene or healthy surroundings. This was almost certainly a factor in Elizabeth's contracting the deadly disease, tuberculosis. She died in the Fawdry building in September, 1855, when Daniel was only a few weeks old. Daniel himself didn't fare any better - in fact, the infant survived his mother for only another five weeks, dying of diarrhoea on 8 October.
Patrick picked himself up after this double tragedy, to meet and marry a young widow, Ann Delaney (nee Birtles), who also came from Ireland. Ann and her first husband had lived just around the corner from Dudley road in Smethwick along, with Ann's father Francis Birtles and her brother, also Francis.
Ann's husband William died around the same time as Patrick's Elizabeth, and the two newly widowed young people decided to marry again. They moved 13 kilometres away from Smethwick to another highly industrialised town, Bilston near Wolverhampton, where Patrick found labouring work in a blast furnace.
In 1856, the couple married in the Holy Trinity church in Oxford Street, Bilston (right).
By all accounts, Bilston was a black hole of misery for all but wealthy merchants and mill owners.
It was said to have epitomised the "dirty, uncultured, unloveable Black Country", and part of Bilston earned an appalling reputation as a "hard-hit fever nest".
" ..... The whole place is a filthy dilapidation, pestilential as the Valley of Death, disgusting as the rotting corpse of a diseased drunkard [in] narrow, noisome courts opening out into alleys, covered ways and little fetid squares [Birmingham Daily Post, 7th June 1866]."
So it is unsurprising that Patrick and Ann sought to leave England for much greener pastures. They opted for Australia, as assisted immigrants to the colony of New South Wales, arriving in Sydney in June, 1857, on the Glen Isla. The immigration records noted that both were Roman Catholic and could read and write. Patrick was said to be an agricultural labourer, and Ann a general servant.
Their whereabouts over the next few years are uncertain, but almost certainly in the New England area of the state, west of Armidale. Two daughters were born in that time, Mary Ann and Margaret, but so far, no birth or baptism records have been found for them. Their next child, Patrick James, was born on a property, Beverley, near the village of Bundarra in August, 1860. Young Patrick's birth was registered by his father's employer, Theophilus Cooper, the grazier who ran Beverley station. He recorded Patrick's occupation at the time of the birth as "shepherd". After young Patrick, two more daughters, Ellen and Jane, were born, to complete the Gaffey family.
In the meantime, Patrick set out persuading his widowed mother, brothers and a sister to join him in Australia. He paid deposits for all of them to come as assisted migrants, so he was obviously earning enough to entice his family to make the voyage. First up, he enrolled his sister Mary Ann, and his brothers William and James. However, Mary Ann elected not to make the voyage, preferring to stay and marry in England, so 14 year old William and James, only 12 years old, made the voyage alone on the Fitzjames, arriving in 1860.
Next, Patrick nominated his mother Mary to come with Patrick's brothers Daniel and Bernard. Patrick's planned family reunion was not be be - Mary died in Bilston, just a few months before the voyage, so Daniel then 20 and Bernard, 15, came alone on the Hotspur in July, 1862

All four brothers joined Patrick to work on properties in the New England around Bundarra. Patrick himself set about acquuiring some land and developed a property at Bakers Creek west of Bundarra, that he called Glencrowan - maybe a name derived from his home townland of Croan, near Newry in county Down.
His wife Ann died in 28 June 1898, and Patrick lived for only another three years. He and Ann are buried in the cemetery at Bundarra, sharing a gravesite with his unmarried brother Daniel who died some 16 years later. (The gravestone (left) which presumably was carved years after Patrick's death, says he died in 1900 - however, his death certificate and probate papers clearly give 30 January, 1901 as his date of death.)
********
A further sad twist to the story of Patrick's family.....
Glencrowan was taken over by his only son, who had something of a tragic life. Patrick James' first-born daughter Rita, died in 1915 in a fire on the property when she was only six years old. The Inverell Times relayed this account of the child's death:
Two years later, the family made the news again, this time for Patrick jnr's death by suicide: