Margaret was the Australian-born daughter of one convict and the granddaughter of another. Her actual birthplace is not known, but the family was living in the Namoi River region of New South Wales (west of Armidale/ Tamworth) when Margaret and her younger brother were baptised together in 1851, two years after Margaret's birth, possibly while visiting her Margaret's parents' home at Macdonald River, northwest of Sydney.
Her father's background as a convict (and his peripheral involvement in the Myall Creek Massacre of 1838) was probably well hidden by the time of Margaret's birth more than 10 years later. One of the eldest of Tom and Catherine Berryman's 10 children, Margaret would have carried heavy responsibilities for most of her life.
Growing up in the then isolated New England area of New South Wales, Margaret was virtually uneducated, and in later years could not sign her name. Schools were few and far between for the children of pioneer settlers.
In time, a sort of prosperity came the family's way, with the former thief and convict Tom Berryman moving from work as a stockman to owning land near the village of Bundarra, west of Armidale, by the late 1850s.
In the New England, Margaret met an Irish immigrant, James Gaffey, who had come to Australia in 1860, and settled in the Bundarra area, along with his brothers. When she was 19 years old, Margaret and James married.
For Margaret, marriage brought more hard work, in the form of 10 children – as well as tragedy, with the death of her first-born, Mary, in a fire in the family's farmhouse when she was just two years old. More children were born to the family – the family's youngest, Ellen, when Margaret was 46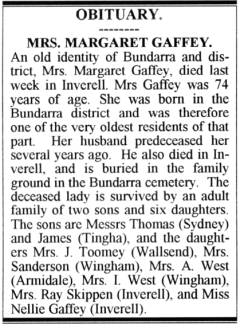 James proved a restless husband, moving around the New England area, and Margaret and the children followed him from Bundarra, to nearby farms at Dry Creek, Black Mountain and Ironbark Creek, before finally settling at the turn of the 20
th
Century, in the boom-and-bust mining village of Howell, south of Inverell.
By then, James appears to have given up farming, and was working as a labourer in the village at the time of his death in 1917.
Margaret outlived her husband by six years, and is buried with him in the family plot in Bundarra cemetery on the banks of the Gwydir River.
Margaret's obituary, in the Armidale Express, December 4, 1923