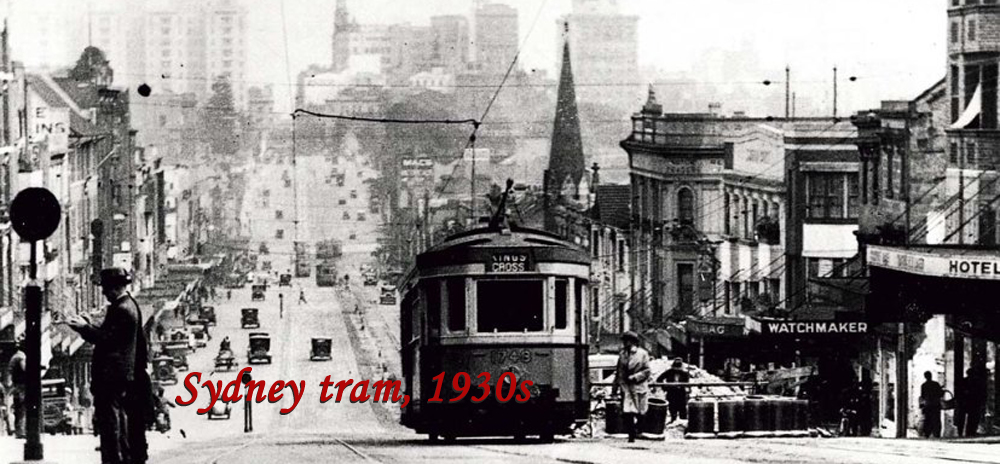 William Street, approaching Kings Cross

Thomas Gaffey (1883-1949)

This block will be replaced by LeftMenuGaffey (orByrnes) when the page is served from a server.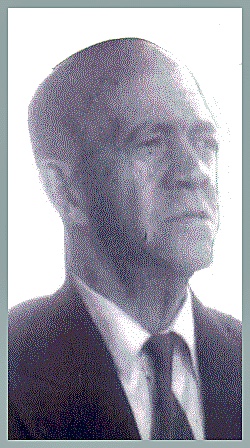 The only photo of Tom
Gaffey (Joan's father) so far found....
Father:

James GAFFEY (born Ireland, 1844[1])



Mother:

Margaret BERRYMAN (born nr Wiseman's Ferry, NSW Mar 9 1849[2])



Birth:

Mar 6 1883 in Bundarra, NSW[3]




Death:

Mar 9 1949 in Sydney[4]



Occupation:

butcher (Howell, via Bundarra) tram conductor/driver (Sydney)[5]



Marriage:

1. Stella Eveline WILLIAMS (1921, Paddington, Sydney)



Children:

Joan Margaret GAFFEY (b Nov 9 1921 – Feb 28, 2001), married Peter BYRNES, 1943, Sydney
Thomas Reginald GAFFEY (b Oct 1922)
Evelyn Frances GAFFEY (b Apr 12 1924)



Marriage:

2. Mary PILKINGTON (née Fox), 1932, Hunters Hill



Children:

James GAFFEY
Otto GAFFEY


By the early 1880s, James Gaffey, an Irish immigrant farmer in the New England area of New South Wales and his wife Margaret had had six children born to them – all girls, and James may well have been despairing of a male child to help with the farm work in later years. James and four of his brothers had come to Australia after Ireland's Potato Famine, while young Tom's mother Margaret, the daughter of one convict and the granddaughter of another, had been born in the colony.
However, in 1883, their first son Thomas, was born in the village of Bundarra, northwest of Armidale.At the time of Tom's birth, Bundarra was a growing town serving a thriving agricultural district with several very large sheep and cattle properties. That year, his father is recorded as owning land at Dry Creek, and working another 800 acres of land at Black Mountain,
[6]
where the family lived.
Although the records haven't survived, Thomas was probably baptised in the church of the newly-declared parish of St. Mary of the Angels in Bundarra (the church itself, a long wooden building lined with pine, had been built 20 years previously).
When Tom was just a youngster, his parents took the family to live further west at Iron Bark Creek, Barraba, near Bingara, and it was there he grew up, presumably doted on by all his big sisters.
After he left school, instead of turning to farm work, Thomas became a butcher in Howell, a small mining village south of Inverell, where his father had taken the family at the turn of the century, after 15 years at Iron Bark Creek. Howell was a settlement west of the tin mining town of Tingha, just north of Bundarra.
Life at Howell for Tom as a young man would not have been dull:
Howell's long main street…contained a large hall used for regular dances and concerts…. Many big fights among the miners caused great mobs of onlookers to gather and police intervention was often required. Sometimes the high spirits were worn off at the sports ground at the "top end" of town, where cricket and football were popular and where fortnightly athletics carnivals, "gaslight sports" were held. From 1900, a jockey club held regular race meetings. ..[Nat Skippen's two-storey hotel] had a big billiard room and barber's shop attached.[7]
Nat Skippen was the father of Tom's brother-in-law Raymond, who married Tom's sister Elva in 1910.
Tom worked at one of the small town's two butcher shops, but the collapse of the Conrad mine in 1913 meant the end of the prosperity of Howell, which depended entirely on the miners and their trade. His younger brother James[8] had joined Tom in the butcher's trade in Howell, but while James was content to stay and work in the New England area, 30-year-old Tom felt the pull of the city lights and headed off to Sydney after the closure of the mine.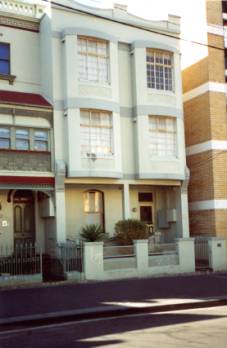 By 1915, he is recorded on the State's electoral rolls as living at Victoria Street, Darlinghurst, in the Kings Cross area.[9] There he joined the city's transport service, starting out as a tram conductor, and by 1921, had been promoted to a tram driver.
(right) 374 Victoria street, Darlinghurst, where Tom first
lodged when he first arrived in Sydney
Tom was late in settling down - he had turned 38 and was living in Cook's Road, Paddington[10] when he met and married a local girl, Stella Williams, the daughter of a hotel broker. (Cooks Road runs behind the modern day Sydney Football Stadium and Fox Studios on the site of the old Sydney Showground).
The marriage produced three children, two girls and a boy, but tragically lasted less than six years, before Stella was struck down by a kidney disease. She died at their home at Bondi,[11] in December, 1928.
It's believed Stella's older sister, Gertrude Williams, wanted to care for the children in Sydney, but this did not eventuate. Tom struggled on with the children for a while, with an extended visit to his own family in the New England area, but realising the problems confronting a single parent at the time, left his children in the north. Within 12 months, two of the children, Joan and Reginald, were admitted to an orphanage in Armidale, where they stayed for nearly a year.
In December 1930, Tom brought his children back to Sydney. At the time, he was living in just a single room in a house at Hunter's Hill, so he enrolled the girls as boarders at St. Joseph's Convent at Hunter's Hill. He kept young Reg with him – and met his future second wife Mary Pilkington, when one of Mrs. Pilkington's children told her about the boy who lived in one room with his Dad.
Feeling sorry for the two of them, Mrs. Pilkington, a widow, extended an invitation to Tom and Reg to come for a meal – and in 1932, Tom, then nearly 50, and Mary married. Mary already had four children from her first marriage, and she and Tom went on to have another two sons, Jim and Otto.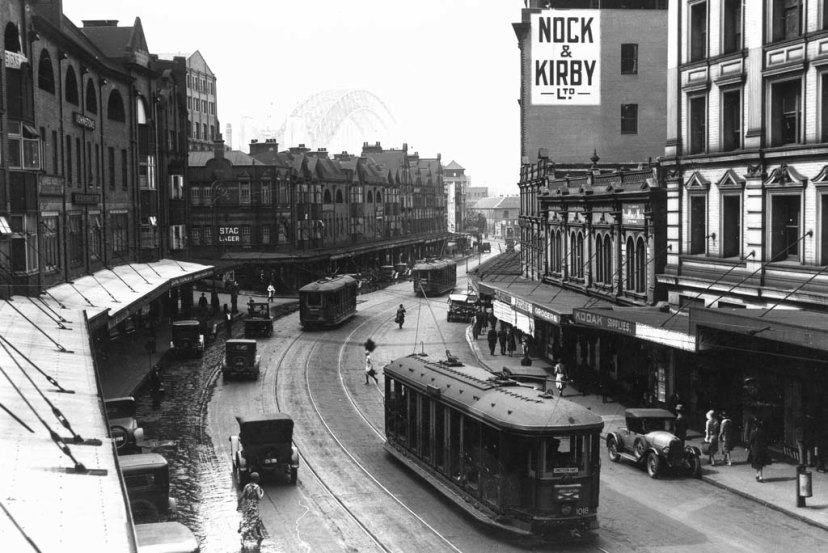 left: A Sydney tram of the 1930s, such as Tom drove, in George street.
Through the 1930s and 40s, the family lived in a brick cottage in Hunter's Hill, at 5 Gladesville Road, just down the road from the large Catholic boys' college, St. Joseph's.
Tom's son-in-law Peter Byrnes says he was a very kindly, thoughtful man, always punctual (perhaps a hang-over from his public transport job!), one who would sit and chat with him for long periods. After he retired as a tram driver, Tom found he needed an outlet, so returned to casual work and his original trade in a local butcher's shop.
Tom has been described as "somewhat nervy", which may have predisposed him towards a gastric ulcer for which he entered hospital for treatment, just before he died. Before surgeons could operate, Thomas had a heart attack, and died in Balmain hospital in March, 1949, just three days after his 66th birthday.
Tom and his first wife, Stellla, are buried together at Rookwood cemetery in Sydney (right).
---
[1] Clonallon Parish Records
[2] Catholic church records of Margaret's baptism give this date of birth
[3] NSW Registrar General's office. Index No.:Births Deaths and Marriages for NSW. no 27819.
[4] Tom's death certificate
[5] Family recollections