One of the many convict tales in the Gaffey family tree is that of Thomas Stewart, an Irish farm labourer and reaper. Tom was born in John Street, Ardee, in County Louth[9], and baptised in December 1800, but if you believe his gravestone and death certificate, was born in 1794 (unlikely, given that at that time in Ireland, Catholic baptisms were normally carried out not long after birth).
According to the convict records, Thomas, the son of a stone-mason, was 27 years old when he was convicted, on July 20, 1830, of housebreaking. It was his second offence and the judge sentenced him to seven years' transportation "beyond the seas". When Tom set sail in the Waterloo for Botany Bay, as the fledging settlement was still colloquially known, he left behind a wife, Margaret, and three children, the eldest seven years old and the youngest, Alleck, a mere infant, born after his father had been sent to prison. He was not to see them again for six years, and young Alleck, never.
On arrival at Port Jackson in May, 1831, Tom was assigned to the Elkins' farm, at Lower Portland Head, near Wiseman's Ferry, on the Hawkesbury River. He stayed out of trouble while working for Mrs. Elkins, so much so that she gave him a good character reference some years later, when he sought to have his family brought out to Australia to join him. His application was granted, but too late for young Alleck , who died before he could join his mother and two older sisters for the voyage south on the Thomas Harrison in 1836.
Tom was not a big man, even by the standards of that time: the convict records describe him as being 5ft 3˝in, with a sallow, pock-pitted complexion, dark brown hair and grey eyes, with a 'blue mark between left forefinger and thumb." These early records show Tom's name as "Stuart", but later ones generally favour the "Stewart" spelling.
When Tom gained his freedom in 1839, he and Margaret set about farming in the same area of the MacDonald Valley he had worked as a convict. Over the years, they added another five children to their family. Farming was obviously a healthy life for them - Tom lived well into his eighties, dying in 1888, just one year after Margaret.
The picturesque MacDonald Valley, near Wiseman's Ferry on the Hawkesbury river, north of Sydney, where the Stewarts settled after Tom earned his freedom.
Tom and Margaret's second daughter, Catherine, met and married another convict, Thomas Berryman, in the MacDonald Valley and later settled in the New England area. Their daughter Margaret Berryman, married Joan Gaffey's grandfather James in Bundarra, near Inverell, in 1868.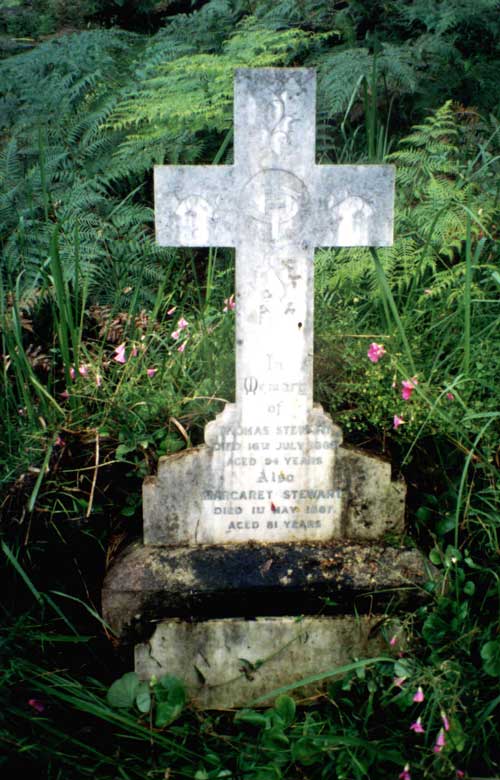 Tom and his wife were buried in the now abandoned cemetery alongside the ruins of St Joseph's Church in the MacDonald Valley, near St. Albans. While overgrown, their gravestone (right) was still quite legible more than 100 years later
April 2011: The graveyard is part of the church property being restored. For a look at the work of restoration of St Josephs, check out Steve Kavanagh's website at: http://stjosephsrestorationstalbans.blogspot.com/
---
[1] Thomas' NSW death certificate
[2] As above
[3] Baptism register, Ardee, pg 167 NLI
[4] Convict records – shipping list of the Waterloo
[5] As above
[6] As above
[7] Convict records – shipping list of the Waterloo
[8] Thomas' NSW death certificate
[9] Research by Stewart family researcher, Coralie D. Hird.