One of the approach roads to the village of Ebbesbourne Wake in Wiltshire, where John Snelling Blandford was born in 1822.
John Snelling Blandford
(1822-1896)


This block will be replaced by LeftMenuByrnes when the page is served from a server.
Father:

John Roberts Blandford(1794-1851)



Mother:

Martha Snelling (1802-1825)




Birth:

1822 Ebbsbourne Wake, Wiltshire, England



Death:

1896, Donnington Gardens, Reading, UK



Marriage:

Hannah Janes, 1842, Martin, Wiltshire (Hampshire) England



Children:

Martha Amelia BLANDFORD (1843-1904), married George Dance
1864, Andover, Hampshire
John Roberts BLANDFORD (b 1849)
For many people a middle name is almost an unnecessary afterthought - to be used only when called for on official documents. But for John Snelling Blandford, it seems almost an essential part of who he was, even being incorporated into his signature. "Snelling" was a name inherited from his mother Martha - it was her maiden name. Martha died when John was only three years old, so the name probably had extra significance for him.
John's father was a Congregational minister, but John obviously had no inclination to follow him into the clergy and instead turned to learning a trade. By 1842, when John married a young local Wiltshire woman, Hannah Janes, he was already working as a carpenter, so presumably by then he'd undergone training with another tradesman, or more probably an apprenticeship. Youths were usually apprenticed for around seven years and would rely on their 'masters' for food, housing etc. As well as on-the-job training, they would have study, particularly reading, writing and arithmetic in their down time.
After a seven year apprenticeship, John would have been newly qualified as a carpenter when he married Hannah, from the nearby village of Martin. At least two children were born to the marriage: Martha, the eldest born the year after the wedding, and John born six years later, in 1849, by which time the family had moved to Andover, in neighbouring Hampshire. Demand for carpenters was not providing John with enough work, and in the UK census of 1861, his occupation was listed Census as "Grocer and carpenter", a slightly odd combination. Maybe he was being assisted in the grocery work by his teenage daughter Martha, whose occupation was given as "shop woman'
In the next 10 years, the need for skilled workers improved, and he was then listed as a "Joiner - Clerk of Works", a big jump up the scale on a building site, and the family moved again, this time from Andover to Wokingham, in Berkshire. By then, his 22 year old son had followed him in the trade, as a carpenter and joiner. A note in passing, from that 1871 Census: by then, his daughter Martha had married George Dance, and Martha's six year old son was visiting his grandparents at the time of the census, where his name is recorded as following the Blandford tradition of the mother's maiden name being incorporated as a middle name for the eldest son, George Blandford Dance. Young George was to become one of the two Dance brothers who, in the 1880s, settled in the Marburg area of Queensland. One further note about John's children, Martha and John - the siblings each married members of the Dance family, Martha had married George, and John married George's sister Eliza Jane Dance.
John's fortunes took a bad turn in the 1870s. By 1877, he was a master builder, with several men working for him, when he undertook to build a house for a family in Wellington College, Reading. It was a wet December at the time of the construction, possibly affecting the foundations - a fact blamed by John for the collapse of the house just after Christmas, three weeks after the family moved in. The collapse had a tragic result - a one year old child, Ada Barnes, was killed as her bedroom fell apart around her. An inquest into the tragedy was hastily called, and evidence was given about its construction, and what happened as rescuers tried to extract the family from the debris. The report of the first days testimony was given in the Reading Mercury of 30 December, 1876.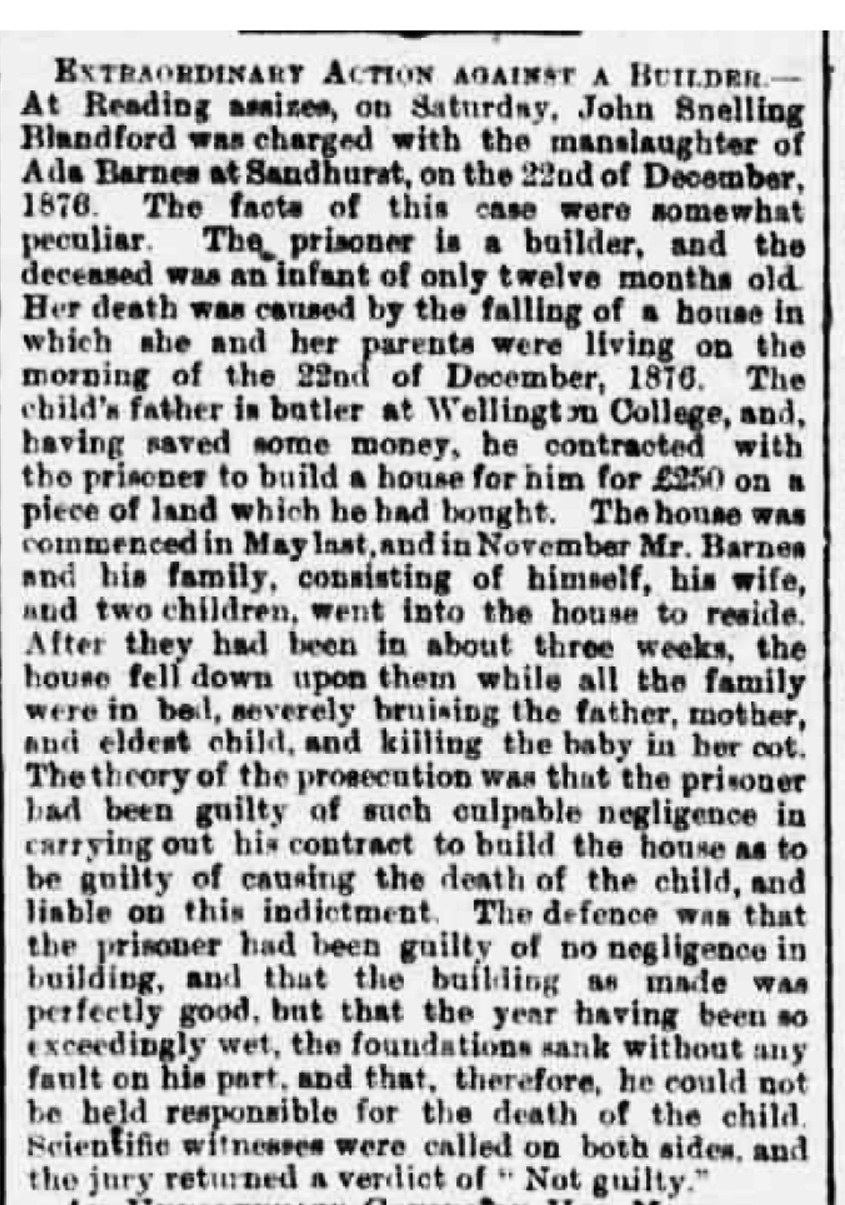 left: The report on the manslaughter charge from the Liverpool Mercury of 20 February, 1877
Within two months of the collapse, John had been charged with manslaughter, and after a jury trial, he was found "Not Guilty". Unsurprisingly, John decided this tragedy meant he should not continue to work as a builder, and in two subsequent Census (1881, and 1891), he described himself as a "retired builder". The word "retired" was even underlined in the 1881 document.
John's wife, Hannah, died in 1891, aged 68.
Less than a year later, John, then aged 69, remarried. His new wife was 42 year old Sarah Ann Baker. For John's few remaining years, he and Sarah lived in a terrace house in Reading, Berkshire, until his death from heart problems in December 1896. His business setbacks were reflected in the probate of his will, which showed that although he had assets of £322, he also had debts of £431, a shortfall of nearly £100.
A 2009 view of 97 Donnington Gardens, Reading, where John and Sarah lived before his death.