Burleigh Heads, Queensland, as it was in the 1930s, when Edwin operated a bakery in the resort town
Edwin Evan Dance (1897-1969)
"The Bakery Bomber"

This block will be replaced by LeftMenuGaffey (orByrnes) when the page is served from a server.
Father:

William Henry DANCE (1867, Devon -Dec 16 1924, Marburg, Queensland

Mother:

Amalia Christina RETCHSLAG (Oct 5 1871, Haigslea, Qld-Sep 15 1903, Marburg)

Birth:

27 August 1897, Marburg, Queensland.

Lived at:

Marburg, Gatton, Burleigh Heads, Maroochydore (Queensland).

Marriage:

3 July, 1919, to Maria Wilhelmina Sprenger

Death:

January, 1969
Years ago, we discovered there had been six convicts among my mother's ancestors, transported to Australia from Britain way back when. This caused mortification for my mother (she was of a generation that found such a background embarrassing), but my father used to take great delight in referring to his in-laws as the "criminal branch of the family". Such jovial point scoring came to an end when we found a couple of miscreants in his own Byrnes family who, for one reason or another, found themselves on the wrong side of the law. (Sadly, my mother had died by then and so was unable to enjoy the turn of events).
This is the story of one such man...
Edwin Evan Dance in the uniform of the 41st Battalion, Australian Imperial Force (1916)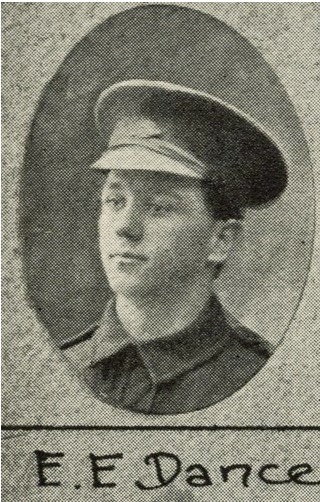 Edwin was one of ten brothers, sons of a prominent businessman and farmer William Dance, in Marburg, a country town not far from Brisbane.
Nineteen-year-old Edwin and two of his brothers, Charles and Francis Herbert
, perhaps seeking adventure, signed up to go to war in 1916.
As well as aiming for adventure, they may have felt they were defending the Empire (although, it should be noted, their mother, Amalia Retschlag, was of German extraction).
Their father had been born in Devon, back in the 1860s, setting out for Australia as a young man in the 1880s.
On his enlistment papers, Edwin described himself as "British-born", as was the custom of the time.
Edwin, one of the soldiers' photographs published in a special supplement to The Queenslander magazine in 1917
Edwin was sent to England, with the 41st Regiment arriving at the end of January, 1917:

At the Larkhill military camp in Wiltshire.
Members of No 8 hut, 5 Platoon, B company, 41 Infantry Battalion. Edwin is thought to be in the second row, 4th from the left.

On the battlefields of northwestern France, Edwin was both lucky and unlucky - he was wounded twice (gunshot wounds to the shoulder and stomach), but survived each time, being sent back to England for treatment and convalescence, before returning to the fighting. A good fighter he may have been, but his discipline record had a few blemishes. A couple of absence-without-leave cost him a few days pay, and in another instance, more fines followed a "neglect to obey" and "trespass", presumably a minor form of insurrection.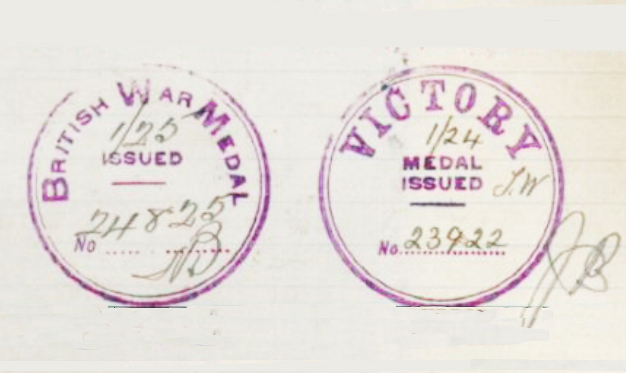 At war's end, Edwin returned to Marburg to marry a lass of German descent (Maria Sprenger) and to farm life with his father, with a couple of standard-issue medals
(above)
to show for his "adventure". The little family of Edwin, Maria and their young son had a few setbacks early in their married life. A house they were renting in nearby Rosewood in 1923 was destroyed by fire, fortunately when the family was away from home. A quiet life may not have appealed to Edwin - in the 1920s, he had a couple of run-ins with the local constabulary. Within a month of his father's death in December 1924, Eddie and his fellow soldier brother Francis found themselves up on assault charges involving a local shopkeeper. According to Eddie and Francis, the man who ended up on the wrong side of their fists had several times called their newly-deceased father "a .(...) mongrel" (apparently over a business deal). The obviously sympathetic jury found Francis "not guilty", and Eddie "guilty of common assault under provocation".
His Honour: "I hold that as a verdict of Not Guilty".
The trial had earlier been told that up until the time of the incident, both Dance boys had been of good character, although the constable giving evidence added: "But Eddie was had up for creating a disturbance. He was fined five shillings".
His Honour: "It must have been a very serious case". (Laughter).

The next - relatively minor - transgression on the public record came in 1932 when he was fined the more considerable sum of £12 for possessing an unlicensed firearm.
After his father's death in 1925, the Dance family's two farms were sold, which meant that Edwin had to look elsewhere for work. He sometimes contracted to do work for the Department of Main Roads around Marburg - work which gave him lessons in explosives, a skill which he used a few years later resulting in serious trouble with the law. In the 1920s, some of the Dance family had branched out in the bakery business, and at the time of the firearms offence, Eddie was working as a baker in Gatton, a town a little further west of Marburg. The next year, in September he had the chance to set up in business on what later became Queensland's Gold Coast, buying a bakery at West Burleigh.
As a businessman, he didn't take too kindly to the prospect of another baker coming in to what he saw as his territory at Burleigh, and when an opposition baker's oven and business were blown up less than a year later in early February, 1934, police soon focussed their attention on Edwin. He hadn't covered his tracks very well - at his trial, the court was told that he had called on his older brother William to organise the gelignite he needed to do the job. William testified that he asked a cousin, Robert Dance, to buy gelignite, fuse and detonators, and leave it at a hotel in Marburg for Eddie to pick up. The court wasn't told what William - and Robert - thought of this request, but they carried it out for their brother and cousin. The bombing was fairly amateurish - while the opposition's bakery was unattended around midnight, the gelignite was left in the oven there and lit with a 20ft (about six metres) fuse. This enabled the bomber to make a quick getaway, which he did, according to local householders who heard a vehicle leaving the bakery around midnight, going at 40mph up steep Burleigh Hill. The jury didn't take long to consider their verdict - after an hour, they came back with "guilty". The judge said he had taken Edwin's honorable war record into account, and was therefore imposing a 'light' sentence - three years hard labour.
left:
a photo of Edwin used in a newspaper report of the court case.
Where he actually served the sentence isn't really known. Admission/reception registers from the Brisbane Correctional Centre (presumably what was familiarly known as Boggo Road) list Edwin as being there in 1934 and 1935. He also gets a mention in the records of Palen Creek, a then new low-security jail, near Rathdowney, not far from the Qld/NSW border. while the Index of the St Helena Island Prison also lists Edwin as being an inmate on the island in 1935. There's a slight problem with this - the island prison is supposed to have been closed as a jail three years earlier. In 1936, Edwin's case also came to the attention of the Queensland Parliament. The State Opposition Leader, and Member for West Moreton, Ted Maher, asked to present a petition from some of his constituents seeking the remission of what was left of the sentence. The petition may have been successful, for by October of that year, Eddie was out of jail, operating a cafe with his wife Maria in Maroochydore on Queensland's Sunshine Coast.
Once freed, he soon appears again in police records, accused of being an unlicensed seller of liquor at his cafe (the police charge uses the term "refreshment rooms"). Police said they found 54 bottles of stout and 39 bottles of beer on the premises - and a bottle of champagne. Edwin said the beer was for himself and his friends, and the stout for his wife, because a doctor had recommended she drink stout for her health. He said none was for sale. At the first hearing, he was found guilty, fined £30 (in default two months imprisonment) and all the alcohol confiscated . But subsequently, the warrant used by the police was found to be deficient, and therefore couldn't be used legally to inspect the premises and take the alcohol. So the magistrate then ordered all the alcohol to be returned! And that appears to be the end of Edwin's police record. By 1941, he had reverted to his trade of bakery, but in the years after World War 2, the only other data so far uncovered on him and his wife are the Queensland electoral records, which show him working as a fisherman at Maroochydore, where he died in 1969, aged 71.
*****