On the battlefields of northwestern France, Edwin was both lucky and unlucky - he was wounded twice (gunshot wounds to the shoulder and stomach), but survived each time, being sent back to England for treatment and convalescence, before returning to the fighting. A good fighter he may have been, but his discipline record had a few blemishes. A couple of absence-without-leave cost him a few days pay, and in another instance, more fines followed a "neglect to obey" and "trespass", presumably a minor form of insurrection.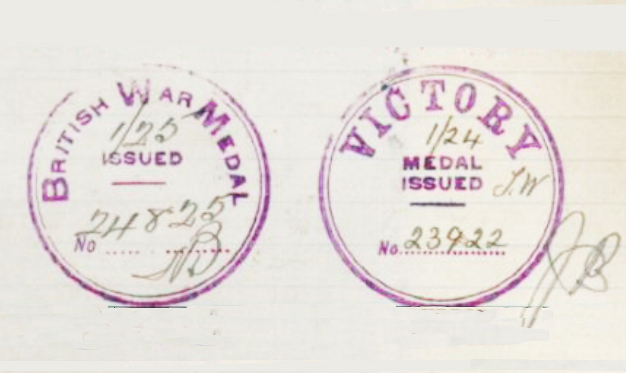 At war's end, Edwin returned to Marburg to marry a lass of German descent (Maria Sprenger) and to farm life with his father, with a couple of standard-issue medals (above) to show for his "adventure". The little family of Edwin, Maria and their young son had a few setbacks early in their married life. A house they were renting in nearby Rosewood in 1923 was destroyed by fire, fortunately when the family was away from home.
A quiet life may not have appealed to Edwin - in the 1920s, he had a couple of run-ins with the local constabulary. Within a month of his father's death in December 1924, Eddie and his fellow soldier brother Francis found themselves up on assault charges involving a local shopkeeper. According to Eddie and Francis, the man who ended up on the wrong side of their fists had several times called their newly-deceased father "a .(...) mongrel" (apparently over a business deal).
The obviously sympathetic jury found Francis "not guilty", and Eddie "guilty of common assault under provocation".
His Honour: "I hold that as a verdict of Not Guilty".
The trial had earlier been told that up until the time of the incident, both Dance boys had been of good character, although the constable giving evidence added: "But Eddie was had up for creating a disturbance. He was fined five shillings".
His Honour: "It must have been a very serious case". (Laughter).
The next - relatively minor - transgression on the public record came in 1932 when he was fined the more considerable sum of £12 for possessing an unlicensed firearm.
After his father's death in 1925, the Dance family's two farms were sold, which meant that Edwin had to look elsewhere for work. He sometimes contracted to do work for the Department of Main Roads around Marburg - work which gave him lessons in explosives, a skill which he used a few years later resulting in serious trouble with the law.
In the 1920s, some of the Dance family had branched out in the bakery business, and at the time of the firearms offence, Eddie was working as a baker in Gatton, a town a little further west of Marburg. The next year, in September he had the chance to set up in business on what later became Queensland's Gold Coast, buying a bakery at West Burleigh.
As a businessman, he didn't take too kindly to the prospect of another baker coming in to what he saw as his territory at Burleigh, and when an opposition
baker's oven and business were blown up less than a year later in early February, 1934, police soon focussed their attention on Edwin. He hadn't covered his tracks very well - at his trial, the court was told that he had called on his older brother William to organise the gelignite he needed to do the job. William testified that he asked a cousin, Robert Dance, to buy gelignite, fuse and detonators, and leave it at a hotel in Marburg for Eddie to pick up. The court wasn't told what William - and Robert - thought of this request, but they carried it out for their brother and cousin.
The bombing was fairly amateurish - while the opposition's bakery was unattended around midnight, the gelignite was left in the oven there and lit with a 20ft (about six metres) fuse. This enabled the bomber to make a quick getaway, which he did, according to local householders who heard a vehicle leaving the bakery around midnight, going at 40mph up steep Burleigh Hill.
The jury didn't take long to consider their verdict - after an hour, they came back with "guilty". The judge said he had taken Edwin's honorable war record into account, and was therefore imposing a 'light' sentence - three years hard labour.
left: a photo of Edwin used in a newspaper report of the court case.