George was the earliest generation of our Boddy ancestors to make the daunting trip to Australia - and by the time he arrived in the colony, he was already already into his retirement years. He was brought here in 1888 by one of his sons, Alfred, who had been enticed by the reports from three of George's other children, who all ventured south earlier in the 1880s.
Sidbury in Devon, George's home town and that of his morther Charlotte, was a world away from the new settlement of Newcastle, in New South Wales. He was born in Sidbury in 1824, and probably had his initial schooling in the village, along with his two brothers, Henry and Joseph.
In the 1830s, the family left for London, where George's parents, John and Charlotte had married in 1821. While John worked as a parliamentary messenger, the family lived close-by to Westminister. The Civil Service also appealed to young George, and he joined the Inland Revenue Service.
In the 1840s, he met Caroline Nichsolson, the daughter of a shoemaker from Kent. The young couple - George was then 23, Caroline slightly older at 25 - married in April, 1847 at St George the Martyr in Southwark in south London. George set about building his career, as the same time as his family expanded to seven children - five sons and two daughters.
The nature of George's work meant the family moved around southern England, and at each of the subsequent 10-year census conducted by the UK Government, the Boddy family lived in a different address. In 1851, when there were just two young children, George jnr and William, George and Caroline were living at the Staple Hill area of Mangotsfield, in south Gloucester, just north east of Bristol. Two years later, they had moved to South Stoke a small village close to Bath, where their sons Alfred (grandfather of Geoffrey Alfred Boddy) and Charles were born.
South Stoke is an historic village, with its pub dating from 1498, and its church, St James, from the 12th century.
The 1881 Census (above) shows George and Caroline, with their youngest daughter Annie, and George's brother Henry, at 1 Dundas Terrace in Woolwich. Dundas Terrace is/was a row of terrace houses at 43-50 Brookhill Road:
The Boddys were still lliving in Dundas Terrace when 65 year old Caroline fell ill with cirrhosis of the liver, dying on Boxing Day 1887.
Her death may have prompted George to join with son Alfred and his family in Alfred's plans to migrate to Australia, where two of George's sons and a daughter were already living. Samuel, Charles and Catherine ("Kitty") had established new roots in Sydney and Newcastle, and had probably sent back glowing reports to the Motherland of life under the Southern Cross. George's three other children, George jnr, William and Annie elected to remain in England.,
In Newcastle, while Alfred and family struggled at times (Alfred going through bankruptcy in the Depression of the 1890s), George settled into the seaside suburb of Merewether, with addresses at Ridge street and Robert street registered to him. He became active in local church affairs, as secretary of the Merewether Church of Christ, and wrote occasional Letters to the Editor of the Newcastle Morning and Miners' Herald, at one time complaining of the state of the gutters in Robert Street.
In August of 1901, in the year of the federation of the Australian colonies, George fell ill, probably brought on by a stroke, dying at the Broadmeadow home of his son Charles a month later.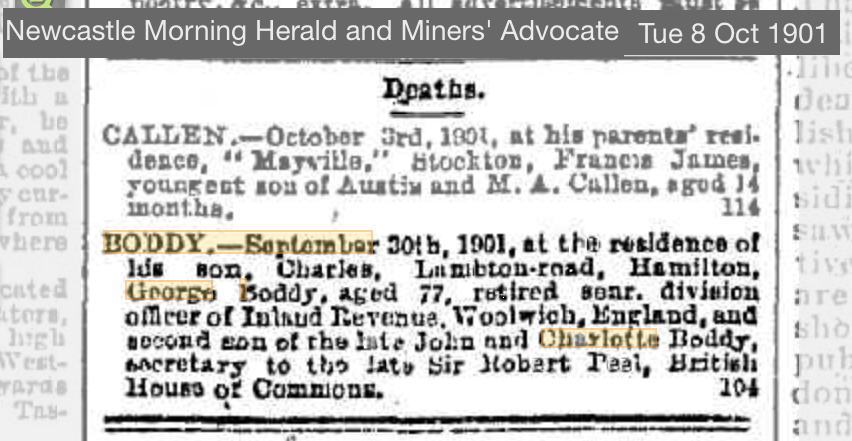 George was buried in an unmarked grave at Newcastle's Sandgate Cemetery. Why it's unmarked is a mystery, since the family thought enough of his passing to have it recorded in the Newcastle Morning and Miners' Herald of the day, with the amusing, if wildly exaggerated, claim that George's father John had been private secretary to one-time British PM, Sir Robert Peel. (However, John may well have been a parliamentary messenger in Sir Robert's Department).
His will, drafted soon after he became ill and signed only with a cross because of his condition, has a little puzzle in it. It appears to make significant provision for his daughter Annie, who had married Charles Richards in 1884 and stayed back in England when George and Alfred headed south. The inheritance was conditional "until she [Annie] shall be convicted of any offence". This restriction may be explained by an entry in the 1891 UK Census, which lists an Annie Richards, married, a laundress, as being held in Holloway women's prison at the time the census was taken in April 1891. Is this George's Annie? In the absence of any other Annie Richards of the right age and marital status in the time of the census, it seems likely.