The Boddy Family arrives in the Hunter Valley of NSW
In 1888, the centenary year of the founding of the Australian colony, a 35 year old man uprooted himself and his London family and set out on the seas, looking for a new and better life in Australia.
Alfred Boddy, who ran a hardware shop in Woolwich, had heard reports of a thriving economy in the southern land from his brother Charles, who had been enticed there some years before, in the early 1880s.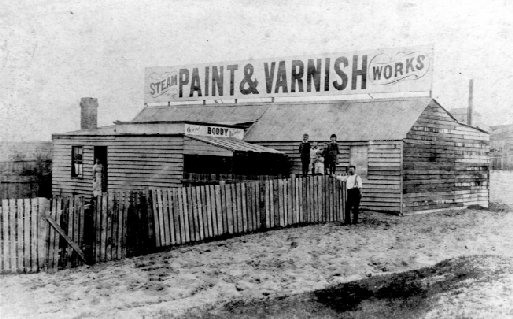 Another brother, Sam, and sister Catherine ("Kitty") had followed Charles' example in 1886. Sam elected to stay in Sydney, while Kitty and husband Ebenezer Dann continued on to join Charles in the Hunter, where he had set up a hardware/paint manufacturing business at Violet Town (left).
Back in England, others in the Boddy family prepared to join them, but in late 1887, Alfred's mother Caroline died, on Boxing Day, at the family home in Woolwich. Saddened though the family would have been at the death of a wife and mother, Alfred, his wife Sarah and their four children[1] , went ahead with their plans to leave behind the cold of a London winter and head for warmer climes. Alfred's newly-widowed father George, a retired tax inspector with the Inland Revenue Department, went with them.
In September 1888, the family boarded the Austral, a five and a half thousand ton Orient line steamship, and made the voyage via the Suez Canal, to arrive in Sydney on October 20.
The family joined Charles in Newcastle, and lived in a little cottage in The Glebe (near The Junction) when they first arrived. Alfred and his young family (including their Australian-born youngest child, Arthur) lived in various suburbs including Waratah before making their home in Lambton Road at Adamstown, where Alfred set up business with a grocery store, but the good financial times which brought the Boddys to Australia were not to last. The bitter recession of the 1890s brought Alfred undone, and he was made bankrupt in April 1894. In his testimony he declared:
I have only earned for the past twelve months twenty pounds, out of which I had to support a wife and five children. On many occasions during the last twelve months, myself, wife and family have had to exist on bread and water… I am compelled to sequestrate my estate, otherwise my creditors will never be done harassing me.
Alfred and Sarah picked themselves up after this setback, rented a house at Smedmore (now the inner Newcastle suburb of Wickham), somehow acquired a camera and a buggy, and set out earning a living as itinerant photographers. The photographic business, S.A Boddy eventually became very well established, with studios at 25˝ Perkins Street, Newcastle[2]. (see photo below of Alfred Boddy and his family)
Meanwhile, father George had gone to live in the seaside suburb of Merewether (in Robert Street) before dying on September 30, 1901 at the home of Alfred's brother Charles in Lambton Road, Hamilton.
George's rank is given as "gentleman" in the records of Sandgate Cemetery. Unfortunately, his gravesite is no longer marked with any identification, and can be found only from cemetery records (grave 9, Row F, Section SW [Baptist]). The funeral notice in The Newcastle Morning Herald claimed that George's father John had been secretary to Sir Robert Peel, House of Commons in London – but it seems this is a little exaggeration (his son Charles, giving information for George's death certificate, is a little more circumspect - he described his father's occupation as a 'parliamentary messenger'). Various London directories of the 1840s & 50s describe John as a clerk with the Treasury Department, who may well have had contact with Sir Robert, thus leading to this particular family legend.